As a young apprentice to his father Bill, AJ Eberhardt is the modern day example of a Master Craftsman passing the torch to his son.
Once a common practice, it's sadly a vanishing tradition. From the time he was a young boy, AJ loved working alongside his father. It seemed only natural that when he became old enough, he would help his Dad during the summer's installing Central Air systems at ECI Comfort, where his father worked since before he was born. When AJ turned seventeen, he picked up another of his father's passions, firefighting, and joined the volunteers of the Croydon Fire house.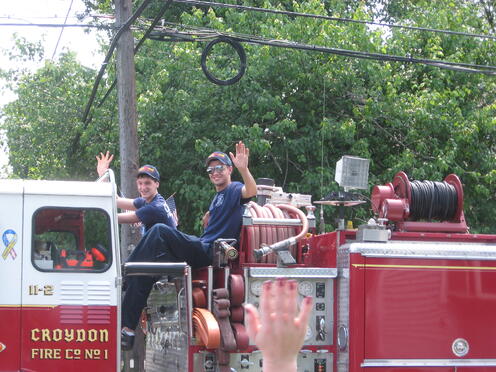 The following year, AJ graduated from Harry Truman High School in Bristol Township and figured, If it isn't broke, why change it?, and became a full time member of ECI's installation crew, working directly for his father.
"Being a father and son makes it difficult at times to separate that bond from family to co-worker," Bill says. "But we have become so much closer."
"I am learning so much from my dad," AJ explains, "My earliest memories are how everyone went to him for answers and he seemed to always have them. More importantly, the customers love and respect him so much. It changed the way I looked at my father and what he did."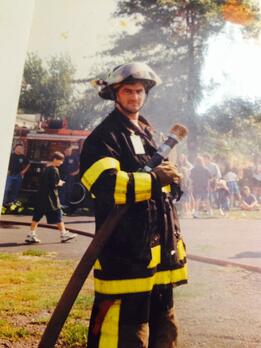 Bill and AJ have passion for three things; hard work, volunteer firefighting and meeting the challenges of home comfort. Both men stress the importance of having a strong work ethic. They believe in going above and beyond for customers and being honest workers.
"My father is a very hard worker, and extremely knowledgeable," says AJ. "It amazes me how he's so good at his job, from high tech boilers & radiant heating systems, to sophisticated controls, Mitsubishi ductless splits, and Unico mini-tube high velocity systems. He always gives 110% to make sure the job is done right, clean, and on time. He makes sure the jobs go smoothly and to this day, if something goes wrong, we all go to my dad. We both take pride in each other's work, and know what standards the other expects."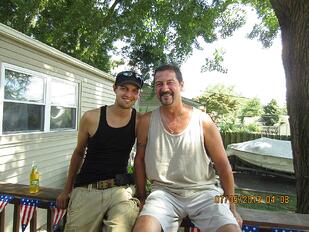 The pair have worked side-by-side for so long they have become in sync with each other, making them an efficient team. "We are always one step ahead of each other. We know what to do next without even saying" Bill said.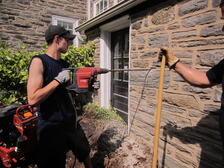 "If my son can take anything away from us working together, I would want it to be my work ethic, to take pride in his work and be thorough and honest," explains Bill.
Not every man gets the pleasure of working with his son, and Bill is grateful to be able to watch his son grow and develop into an amazing man. Both Bill and AJ agree that their bond has become very strong after working together all of these years.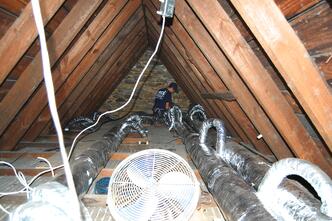 "I can remember when AJ was born and seeing the pride and joy Bill had then," says Ron Musser fellow member of ECI. "To watch those two not only balance the difficulties of working together, but to excel at it, is impressive. By the time AJ was around 20," Musser continues, "he knew more about installing the Unico Mini-Tube High Velocity Air systems, and was more mature, dependable and dedicated than guys ten years his senior.
"Unfortunately, he still looked like he was in middle school, and some customers upon meeting AJ for the first time didn't know what to make of this kid who seemed to be telling the older guys what to do".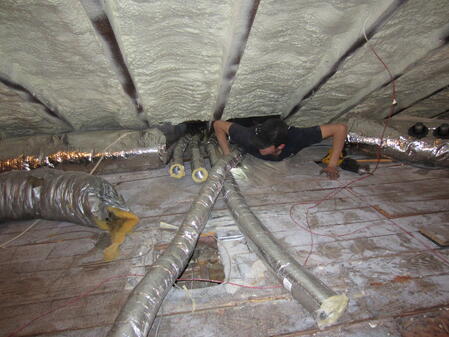 "One of my best AJ stories", Musser says, "was the time we sent him and Chuck Jones (another baby face kid) to install an oil furnace and central A/C system in a good friend's house. I called her when it was done and asked her how everything went? To paraphrase, Doreen, she said "Oh my god, I thought you were crazy, I opened the door and saw these two young boys and didn't see any supervisor or man. I was about to call you, but AJ saw the concern on my face and assured me everything would be fine". I apologized for not warning her and explained that they both had about fifteen years' experience between them. She then said that they were the best workers she'd ever had in her home and that she would tell all her friends to request them if they had a chance"
AJ is known for his infectious smile, good nature and for being a man of few words, but when it comes to his work on older homes and bringing them up to modern day standards and comfort expectations, he has strong opinions.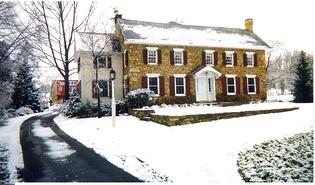 "I learned to love the challenge of working on older homes directly from my father,' AJ says, "You could say it was infectious. Those first few summers I mostly did Unico work with my Dad. It was lost on me at first, but as I saw guys with years of experience join ECI and brag about how good they were and then see them struggle or outright quit because it was so difficult, I realized that what we did was special and gave me a sense of pride that I don't know that I would have gotten doing other types of work. Doing a traditional HVAC installation can be a little boring and can be done well by most guys in the field, but to put central air in a one hundred or three hundred year old house takes a true craftsman, and I learned that directly from my Dad. To see the customer's gratitude, especially when I go back and service a house that I put central air into when I was a teenager and they remember me, and tell me how much they love ECI and what we did for them "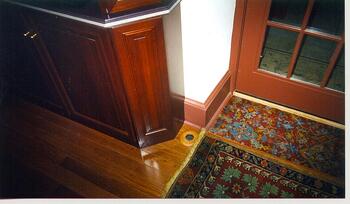 "I do not feel the pressure to become my father because they are some pretty big shoes to fill," says AJ. "All I can do is learn as much as I can from him and others, and then be the best I can.
"Which makes me proud of who he has become," says his father, Bill.