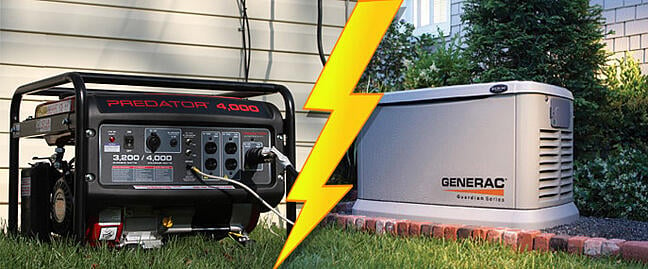 Between overloaded power grids and unpredictable weather patterns, you never know when the electricity in your home will go out. Even worse, once it's out, there is no way to predict when it will get restored. It could be days, even weeks before you see the sweet flicker of electricity in your home again. The best thing you can do to avoid heating canned beans over candlelight is to prepare your home with either a portable or a standby generator.
Portable generators are gas-powered, some require manual startup and they plug directly into your appliances or a manual transfer switch. A standby generator, however, is permanently installed on a concrete pad outside of your house. This type of generator stays connects to the electrical panel of your home, so when the power goes out, the transfer switch automatically fires it up.
Standby or Portable? Which One is Right for You?
Before you run out and get a generator, decide what you need or want in one. Start by going through your home and adding up the wattage requirements for the appliances you want to run when the utilities go out. Download our handy-dandy Wattage Worksheet to help you with this step. This way, you can get a better idea of what size generator will suit your needs.
Next, consider your budget. If you only have a few hundred dollars to spare, a standby generator might be off the table – at least for now. These generators can cost thousands of dollars to have installed. Also, if your home is a rental, you'll need permission from your landlord before you can install a standby. In situations such as these, portable generators are better options because they are removable and they can cost as little as $500 in most home improvement stores.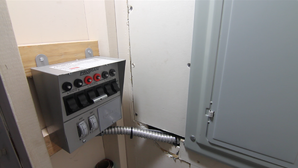 Portables also work better in places that have noise ordinances and prohibit installing standbys. The downside to portable generators is that you have to use an extension cord for every appliance you want to power up, unless you have a manual transfer switch installed by your home's electrical panel. Since most of these generators only have two to four sockets, there is a limit to how many things you can run at once.
Once a standby generator is installed, it's permanent. This means you don't have to drag it to the yard like you would a portable generator, and there are no cords to fiddle with. A standby will automatically power up when the utilities go out. If you want to keep your house in "business as usual" mode, this might be the best option. If you have children or senior citizens in the home, a standby can help keep things in the house running normally for them. Of course, if you want one of these generators, be prepared to spend $5000 to $15,000 to have it installed.
Both portable and standby generators have benefits and drawbacks. Portables are inexpensive and easy to get your hands on, but can limit what you're able to plug in unless you have a transfer switch installed by your electric panel. A standby generator provides uninterrupted power and can keep your home processes flowing smoothly throughout an outage. However, standbys are pricey and ordinances may pose barriers to installation. One thing is for certain though, having any type of generator is better than having nothing at all during a power outage.
ECI can help you choose the right generator to supply power to your home when the rest of the neighborhood goes dark. Click the button below to schedule a free estimate or simply call 215-245-3200.