At ECI, one of the things we're most proud of is the relationships we share with our employees. Each and every one becomes like family to all of us here, and it's always a pleasure to be able to celebrate their achievements. Some big moments for us recently were when Bob passed his ReadyToWork testing, and when Rich hit his year mark with the company last month. Of course we also had some new additions, Chris and Kris both welcomed new members of their families over the summer. These successes, personal and professional, are what we strive for. Because we value all of our employees, I felt it was important that we help our customers get to know the incredible people who make ECI the awesome place that it is. This week, I want you all to meet Chuck.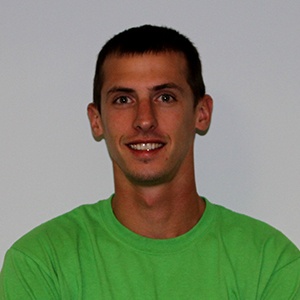 Chuck has worked for ECI for seven years. Considering that he is 27, that's unquestionably something that he (and we) are very proud of. In his seven years, Chuck has worked in both service and installation. His versatility and willingness to lend a hand on either end of the business has made him an invaluable asset to our company.
The General Manager, Chase Musser, had an immediate answer when I asked him to describe Chuck. "Easy going, but hard working, he always has a smile on his face."
Chuck enjoys the service side of his work here at ECI because of the customer interaction. This is probably due to the fact that he is a very social outgoing person, a fact that is evident in his fondest memory at ECI.
"When we had a Memorial Day cookout at the shop and we all hung out and cooked food after work is my favorite memory here," Chuck recalled when asked. The food probably helped make that memory, too, as Chuck also loves to eat. Chocolate frosted donuts with sprinkles happen to be his favorite, and they keep him fueled for all of his hobbies which include riding his quad around the woods and on warm weekends, taking his boat out on the water at WildWood.
Chuck admits that there are some aspects to the job that can be difficult or uncomfortable. "Crawling around in an attic on a hot summer day is a tough part of the work," but he also adds, "It's a good job, I can't complain."
ECI is proud to have Chuck as a member of our team, and we look forward to seven more years of hard work, smiles, and chocolate frosted donuts with sprinkles that we have come to associate with him. Tune in next Wednesday when we profile another one of our amazing family members!