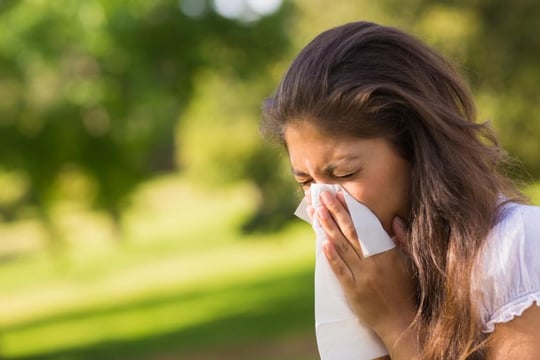 Spring has DEFINITELY sprung – that's for sure. Tired of the sneezing, runny nose, itchy eyes, and nasal congestion? Well, trust me. You're not the only one.
But, what better way to relieve those frustrating allergy symptoms than by having a Mitsubishi ductless system in your home, to help you breathe a little easier and live more comfortably? This system not only helps knock the pollen, dust, and bacteria out of the air before it enters your home, but it's also energy efficient, convenient, and gives comfort a whole new meaning.
A ductless system is one of the best investments you could make for your home and for your family for many reasons:
No ductwork to trap allergens!
A traditional air conditioner has ductwork that inadvertently spreads allergens that are built up from over time, causing all those pollutants to spread throughout your home. However, ductless systems don't have that problem.
Ductless has multi-stage filtration.
The ductless continous fan operation sends and circulates clean, healthier air directly into rooms through wall-mounted air handlers. The multi-stage filtration helps remove airborne particles and contaminants such as allergens, bacteria, and viruses.
Maintenance is easy!
Maintenance only takes a matter of minutes. Simply open the indoor unit's filter access, remove the screens by sliding them out, wash off, wait until they are completely dry, then place them back. The hybrid catechin pre-filters also absorbs odors and lasts up to 10 years!

Increases comfort and convenience.
Ductless gives you zone control for any room! It warms up or cools directly to the temperature you desire without continuously having to change it. It'll help you breathe easier, live better, and most importantly – more comfortably.
Energy efficient and helps save money.
Mitsubishi ductless systems are 40% more efficient than window air conditioners. Your system will work less, save energy, and keep costs low.
Heating and cooling system rolled into one.
Control your comfort in your home all year-around. But, in the spring time it'll help control your allergies while keeping you cool inside, no matter how bad the pollen is or how hot it gets outside.
Allergies don't have to be your worst enemy all spring long. Make it easier for you and your family, and help kick those allergy symptoms to the curb with a new Mitsubishi ductless system. You'll have healthier and cleaner air to help you breathe easier in your home, all year round.
Want to learn more? Check out our link below or give us a call at 215-245-3200. We would be more than happy to help you and your family live more comfortably through any season!