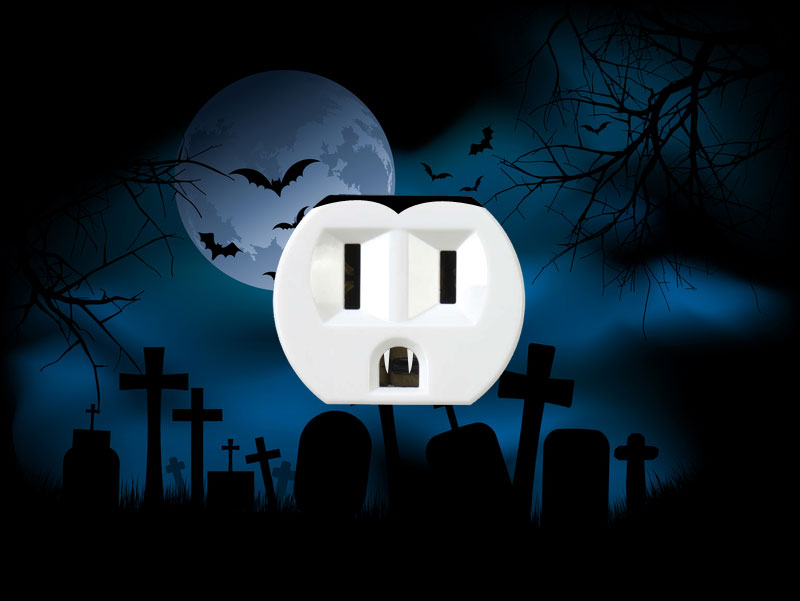 Standby power has a few spooky names: vampire power, vampire draw and phantom load. It's the electricity consumed by electronics and appliances while they are switched off like the cable box you turned off but didn't unplug or the phone charger you have plugged in the wall but not into a phone. Some devices say they are switched off but are still pulling power from electric outlets.
According to The Economist, a typical microwave oven uses more power to run the digital clock than it does to heat your leftovers. Not all products that use electricity use standby power, but you should beware of these energy vamps:
DVD Players - Satellites - Cable Boxes - Game Consoles
Televisions - Printers - Notebook Computers - Desktop Computers
So what can you do? Here are a few tips:
Use Power Strips with Switches
Image from HomeTone.com

When you shut off the Halloween movies you've been binge watching all weekend, the power is not off. Turning off the TV still leaves your energy phantom to roam. If you connect everything a power strip, you can reduce some of that wasted energy. Energy.gov writer John Chu says using a power strip, he can turn off his whole office at the end of the day – computer, printer, paper shredder, lamp and phone charger – with one switch. No worrying about unplugging one by one. Turning off or unplugging a power strip cuts electronics off at the source.
Buy Low Standby Products
Starting with better appliances makes saving energy a lot easier. ENERGY STAR products are natural vampire draw slayers. They will use the least energy and are tested for standby power. Forbes says asking a salesperson is a waste of time because they won't know which products are low standby. Do your research before you purchase, and it will save you in energy costs.
Prioritize Your Standby Power
Not all your appliances can be on power strips, but not all of them need to be monitored either. If some appliances are not using too much standby power, it may not be worth it to unplug them. Focus on turning off the appliances that suck up all the power so you save as much energy as you can. If you spend all your time unplugging phone chargers and blenders but forget the TV, you're probably not saving much of your energy.
Be conscious of your carbon footprint. How much energy are your appliances using and when are they using it? Running your appliances at non-peak hours can help, but shutting them off completely t banish your energy vampires. So unplug, relax and enjoy Halloween, energy free.