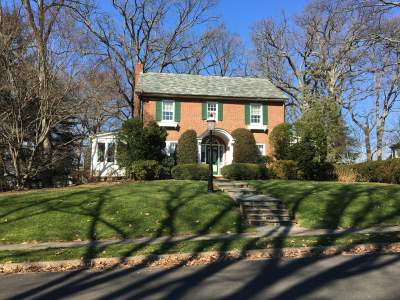 Some would say that there is no such thing.
what if the best looking mini-split is the one you don't see?
You don't see it because it perfectly blends with its surroundings and decor.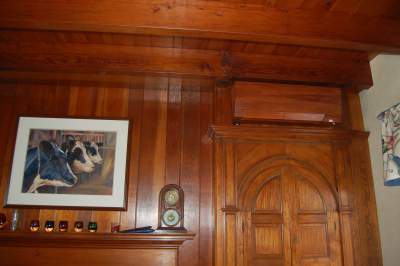 MSZ-FH12NA in Family Room with Faux Wood Finish
ECI Comfort recently had the good fortune to install a Mitsubishi MSZ-FH12NA in the family room of a classic brick colonial that a local painter from the Doylestown area painted with a Faux Wood finish. I've seen many attempts at painting the indoor units over the years, but I've never witnessed one done as well as this!
There was a time when a Mini-Split Ductless system was an option only when nothing else would possibly work, and then, and only then, it would be something that you would maybe suggest that the homeowner should potentially think about considering.
I can't tell you how many times I've heard, "I don't want to see that thing on my wall!"
While I hear that less and less these days, it's still the number one objection for homeowners that are looking to solve their comfort problems. Whether it's a whole home solution for the house that has radiator heat and doesn't have duct work, or a particular problem area, that they can't adequately heat or cool, or the addition that needs a separate system. ECI Comfort has been a Mitsubishi Diamond Dealer for over 20 years, and the equipment has been the most trouble free of any that we've ever installed and our customers don't just like them, they love them. Next, to high-velocity systems, they generate more word of mouth referrals than anything else we do. If I had my way, every customer would have them.
Ductless Mini-Split Revolution
Some would say that we are in the middle of a Ductless Revolution and the numbers bear that out with a growth rate over that far outpaces every other segment of the HVAC industry over the last few years. As more and more homeowners are experiencing the many benefits of ductless technology and are sharing their experiences, more and more buyers are calling ECI Comfort and requesting quotes for Mini-Splits, especially the newer generation of Gen-Xers and Millennials that are more open to technology and change. Even though they are buying older homes, they tend to decorate the interiors with a little more of a contemporary slant. They already have the flat screen TV mounted on the wall, so why not install that mini-split on the wall, especially when they consider that they will be saving money, helping the environment and improve their comfort. It's almost a no-brainer, right?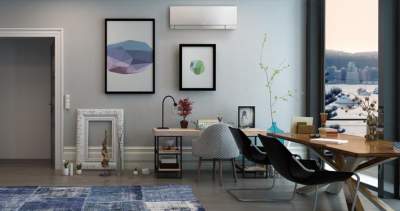 Sample of Mitsubishi Designer Series in Modern Setting
At ECI Comfort we specialize in working on older homes that were built long before air conditioning was invented, updating and improving the HVAC mechanical systems of these special places. While we are benefiting from this Ductless Revolution and this newer generation of comfort and technology seekers, we are still very much involved with the empty nesters and the older generation of homeowners that have lived in these historical homestead treasures for most of their adult lives.
They love these homes, the character, the history and every memory that is connected to each nook and cranny. Every seemingly strange imperfection, to them it is a reminder of a life lived and the family they raised within those hallowed walls, their walls!
And you want to put what on my wall!?
This is the story of Mr. & Mrs. G from Doylestown, PA. These two are treasures themselves and being in their company makes you feel better and both privileged and in some ways a little more motivated to do better. Their home is right out of the movie "Father of the Bride." My daughter's dream home from one of her favorite movies. Their street and their little borough in beautiful Central Bucks County is about as close to Mayberry, USA as you can get in these times.
They called ECI Comfort to get an estimate to install a Unico High-Velocity System in their Classic Brick Colonial home. They had many friends that had ECI install high-velocity systems in their older homes over the years, and John was getting tired of installing the window units. It has been getting harder and harder each year.
The Unico High-Velocity System was perfect for the main house. However, the addition which includes their second-floor master bedroom and their first-floor family room was another story. With an 18" brick wall and an old roof separating the spaces, little or no closets, plaster and lath walls, and open beam ceilings, there just wasn't any great way to tie it into the main high-velocity system. I also felt that these areas should be separate zones that should be controlled separately.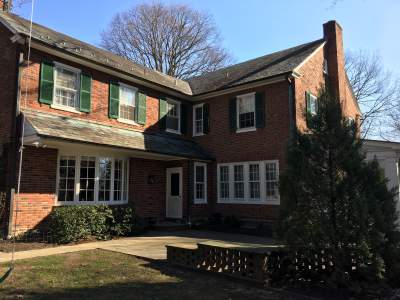 View of Rear Addition with Second Floor Master Bedroom & First Floor Family Room
Interestingly, this is also where they spend a majority of their time. We discussed conditioning only these two spaces and how it would have been plenty for how they lived in their home now, but if they were going to do it, they wanted to knock it all out at once, and they wanted to do it right.
This was when I said, "you know, you may want to consider using a ductless mini split for these areas."
John agreed, this was the perfect solution, and after all, this is the only two areas that they still use the window units.
But John being the good husband that 50 years of marriage confirms, said what all good husbands have learned (some of us sooner than others), I'll need to run that by Susan first.
And Susan said, "you want to put what on my wall? Are you crazy!"
Weeks went by as John and I tried to find a solution to install the high-velocity supply tubes without disrupting the look and feel of these rooms. Over the years I've been fortunate to work with many homeowners who refused to compromise which has made us find better solutions and has resulted in making us better. This is exactly what happened on this project and the result was perfect.
John finally reached out to his good friend and contractor, Tuck who has been working on John's home since before he and Susan bought it 45 years earlier. John was looking for some insight into the framing and possible creative ways to enclose or soffit the outlets.
Now, Tuck would be a casting director's dream character for a Norman Rockwell version of what a general contractor should look like, and after Tuck looked up, over and around and then back again, he turned to John and Susan and said, have you ever heard of these things called Ductless Mini Splits?
This was a game changer. You see, Tuck designed and built their Kitchen and hand made their cabinetry and built-ins in their bedroom and family room. He was as much a part of the history of this house as anyone other accept of course those that lived in it for the past 100 years could be.
But Tuck had an idea; he suggested that we install the unit in the bedroom right in the book case and he could tweak it to fit perfectly and they were both a similar shade of white.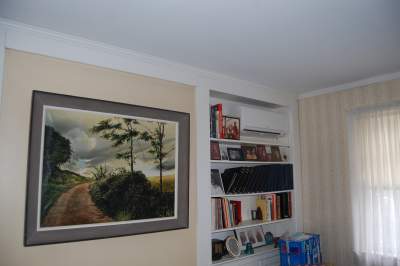 MSX-GL09 in the Second Floor Master Bedroom
He then suggested that they call their mutual friend Mark the painter and see if he could do something with the look of the unit in the family room. Tuck said that he's seen him do some pretty cool work before and he was confident Mark could help blend the Mitsubishi FH Ductless system in with the wood paneling and the cabinetry.
What do you think, was Tuck right?