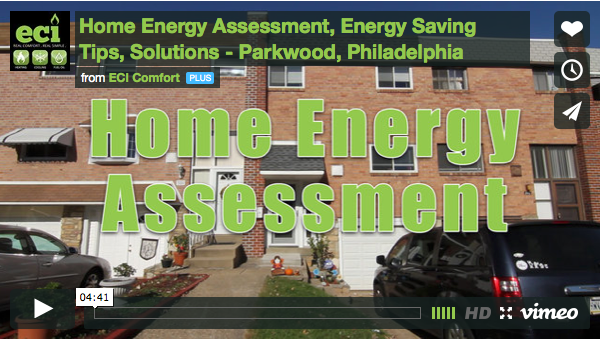 Here is the first of a series of videos that we will be showcasing every week on the ECI Comfort Website. We hope to not only show you the services that we offer, but to share great tips to help you improve the comfort of your home. This week we feature a video of a Home Assessment that ECI Comfort performed at the Morgan residence in the Parkwood section of Philadelphia.
This video features BPI (Building Performance Institute) Certified Comfort Adviser, Paul Giorgi, performing a full home assessment to see in which areas the customer, Kevin Morgan, can become more efficient. In order to learn these inefficiencies Paul uses a variety of different tools. Two of the main tools, among others, that Paul used for the assessment were the Blower Door and Thermal Imaging Camera. Using these two tools, Paul is able to diagnose the areas where air leakage occurs. Upon these findings, Paul can then air seal the areas to prevent the air leakage. This not only improves home comfort, but improves home efficiency, which saves you money.
Do you have a drafty home? If you do, you could be spending more on utility bills because of lack of proper insulation. If your interested in learning more about the ECI Comfort Home Assessment click below.