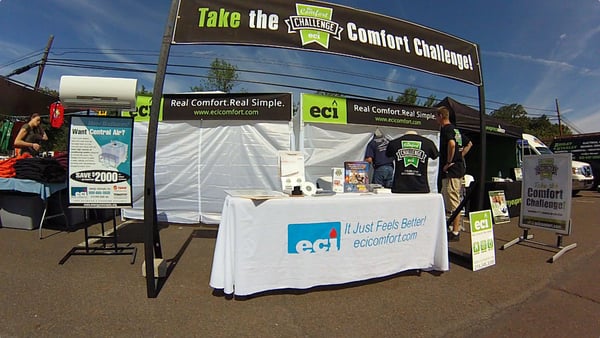 Way back in 2013, ECI Comfort set up two tents at the Levittown Car Show and Family Fun Day as part of our Comfort Challenge. The tent on the left was cooled by a typical window unit air conditioner. Next to it, the tent on the right was cooled by a Mitsubishi ductless wall unit. Guess which one attendees liked most!
Our cameras were rolling as curious folks wandered into each tent seeking temporarily relief from the hot summer day, but one tent was the clear-cut comfort leader. Watch the video below to see and hear people react to both home comfort solutions.
For some, this was the first time they had ever seen a ductless heating and air conditioning unit (yes, they heat just as well as they cool) and they were certainly impressed, as you can see. Europe and other countries have been using ductless systems for a while now and it's about time these quiet, energy efficient systems gained popularity here in the states.
Not only are they ideal for Levittowners, ductless units are flexible enough to be a whole house solution for almost any type home. If you have any questions or want to learn more about these modern systems, click the button below or give ECI Comfort a call at 215-245-3200.
We'll see you at the 2015 Levittown Car Show and Family Fun Day on Sunday, September 13th!