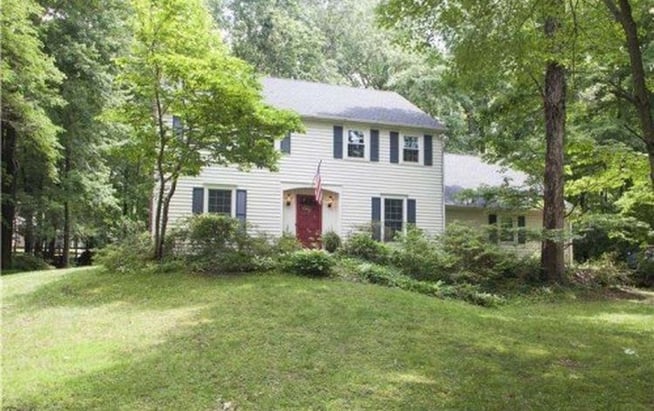 Bucks County's Doylestown area has many lovely colonial homes like this one, filled with families just like our homeowners. These classic homes are often heated by oil heat and radiators, which can be an efficient and cost-effective way to heat any home. Our homeowners in the Woods of Sandy Ridge called ECI because they were having two problems: they had a leak in their current boiler, and they never seemed to have enough hot water. We knew we had the perfect solution that would make this family comfortable for years to come!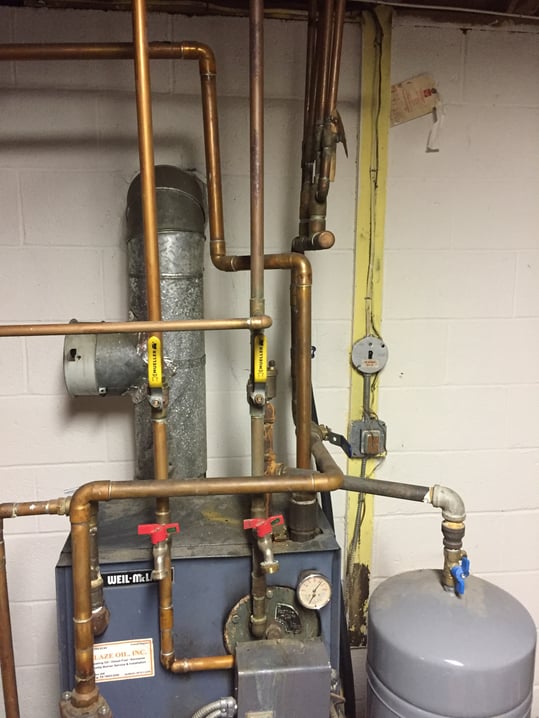 When we went in an inspected the unit, it was clear that the old Weil McLain boiler had a leak. They were getting hot water through a tankless coil in the boiler, but this never seemed to produce enough hot water for the house.
We've all been in this situation, especially if you have a family with several kids. It can be a daily nightmare to make sure there's enough hot water to get everyone, including the parents, showered and ready. Someone always seems to get stuck with the water getting cold while they still have a hair full of shampoo, and it's no fun at all.
Our homeowners had three girls and one more on the way, so they knew they would soon need even more hot water, and the looming arguments of the teenage years were getting closer and closer. Fixing the boiler and all their hot water needs at the same time was clearly important not only for comfort, but for peace of mind!
The Install
Tankless vs. indirect water heaters
If you have an oil water boiler for heat, using a tankless coil to produce hot water is a great way to use the boiler to provide both heat and hot water for your home. While "standard" hot water tank heaters are only 50 percent efficient, tankless systems, especially with an indirect tank, are nearly 99.9 percent efficient. This means you will save money on your energy bills every month and not waste money keeping a big tank of water hot, whether it's being used or not.
In this case, by adding the indirect tank, we were able to increase the net supply of hot water at any time to keep up with demand and avoiding any problems with chilly morning showers that can make the start of any day less than pleasant.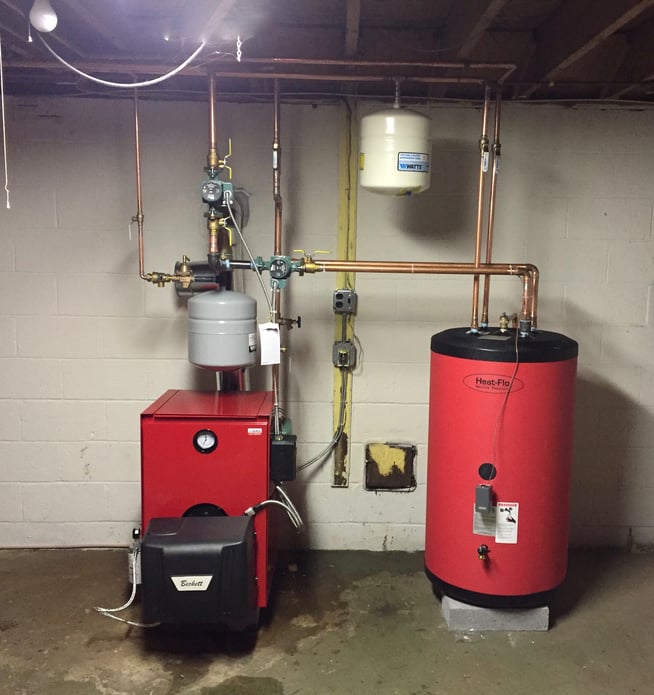 Biasi cast iron boilers for the win!
The new Biasi B4-10 cast iron high-efficiency oil boiler with a 40-gallon heat-flow indirect water tank will provide that extra hot water needed to keep this growing family comfortable and happy!
The Biasi boiler has a three pass system (versus single pass systems for other boilers), increasing its efficiency by up to 40 percent! By switching to an indirect tank rather than relying on the tankless coil alone, homeowners can also save 25-30 percent in energy costs, which should "pay back" the cost of installation within a few years. And if you have a big family like our homeowners, that savings will be magnified by the additional peace of mind gained both in money savings and in comfort!
Classic Home, Investing for the Future
We were so happy to be able to help our homeowners replace their old system with an updated boiler and indirect tankless system that should increase their comfort while also saving them money on energy bills. The increased efficiency means spending less -- something a growing family can really use. They will have years of heating comfort, coupled with great hot water on demand, making mornings a breeze for years to come, and no fighting over who gets to shower when! That's additional peace of mind that can be priceless with a big family.
Helping our homeowners make the right choice that will be able to keep up with their needs for years to come is an important part of our job here at ECI. We look at ourselves as not only service providers, but as partners with homeowners to make sure they have great equipment that performs well, year after year.
We want you to be happy now and into the future, and that means making sure we get to know you and your needs so we can help you make the best choice. At ECI, we make it our business to provide homeowners with options that are efficient and affordable, and to make sure they are satisfied with the equipment and service for years to come.
Most importantly, a system like this one will add long-lasting value to their home, something everyone can appreciate. The warm, comfortable heat coupled with the efficiency of the new system and virtually unlimited hot water will ensure our homeowners will be comfortable every day of the year.
---
If you have an oil boiler that's having problems, or your hot water never seems to be quite enough, give us a call at 215 - 245 - 3200. We'll help design a system that will make you comfortable while saving you money with the most efficient and effective heating system for your home at a price that you can afford.