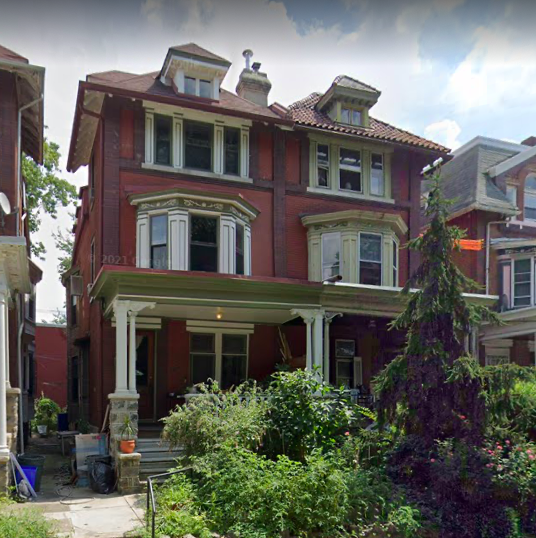 Our homeowners, Katherine and Patrick, recently purchased a beautiful University City twin-home in Philadelphia, Pennsylvania. University City is one of the larger sections of West Philadelphia, with its name influenced by the multiple Philadelphia universities in the area. The University of Pennsylvania, Drexel University, and the University of the Sciences all call this area home. It features many historic-styled houses, from massive twins to row homes, and others in between!
And as with most old Philadelphia homes, they are designed with boiler & radiator heat, meaning no air conditioning. These homes bake in the summer heat, making them extremely uncomfortable. Tired of window units, these homeowners were ready for a permanent fix. So, they reached out to ECI Comfort with interest in adding a ductless mini-split system -- the perfect answer to a scorching hot twin-home in the summer.
First Steps
Upon moving into the home over the summer, Katherine and her family noticed the extreme humidity and heat of a Philadelphia summer. Their solution was to install some window AC units to get relief from the oppressive heat. This was great as a quick fix; but the aesthetics, loud window-rattling, and pain of removing them eliminated them as a long term solution. Something had to be done!
Knowing what she had in mind, Katherine reached out to ECI to begin discussions around what cooling options they had for their home, and what comfort solution ECI Comfort could develop. From here, we scheduled a visit, and our specialist, Joe, had the pleasure of meeting them!
The Home
With the old University City aesthetic and architecture, this three-story home was both classic and classy. In typical fashion to this area, it featured brick construction, beautiful window framing, and a front walk-out porch. Most of the homes in this area look similar on the outside, but inside they always tend to be different!
The first floor contained a living room in the front, then a dining room, then the kitchen in the back. The second and third floors both matched with a large room in the front, followed by a bathroom, middle bedroom, and back bedroom. These spaces are all used differently from one homeowner to the next, meaning they play an important role in how ECI designs a comfort system!
As Joe explored the house with Katherine, some quick measuring and questions generated ideas of how to permanently solve their comfort concerns. The third floor was a priority, as the master bedroom and son's bedroom are both there. This floor is devastatingly hot in the Summer - to the point where it is almost unlivable. And any homeowner with a home similar to Katherine's can definitely vouch for this! For the second floor, the primary concern was a back bedroom, used as a spare bedroom.
Choosing Mitsubishi Ductless for a University City Twin
In our initial conversations, we looked to see if there was a possible whole-house solution. Due to the lack of an attic or closet spaces needed for something like a Unico High Velocity system, we set our sights on Mitsubishi Ductless Mini-Splits. We first looked at doing each room of the home, but while budgeting for other renovations, this was not the most logical solution.
A huge benefit to Mitsubishi Ductless, is its 'plug-n-play' functionality. Unlike a conventional ducted system, a Mitsubishi Ductless System allows you to create micro-climates, or zoned areas of your home! Because of this, we were able to design a 'first phase' system that allowed comfort in each of the priority areas: the kitchen, master bedroom, son's bedroom, and the spare bedroom. By designing a new comfort system this way, it allows our homeowners to begin integrating a cooling system in their home, within budget. It also allows a second system to be installed in the future to cover the remaining spaces!
The last key factor in this Mitsubishi Ductless Mini-Split system is how it is powered. In a large home like this featuring a boiler & radiator system, a TON of energy and BTUs are needed for sufficient heat. Because of this, there is a lot of heat loss during the shoulder seasons/milder weather. This is caused by having the boiler fire up, using all 150,000 BTUs to do so, when maybe only 20,000 is actually used. In this case, the other 130,000 BTUs is exhausted through the chimney, creating wasted fuel and energy.
With the mini-split system, however, you are able to control the climate in those zones, producing heat down to about 30 degrees outdoor temperature. This minimizes the need for the boiler through these time periods, reducing heat loss and saving fuel costs!
The Install
Prior to any new installation, the specialist meets at the home with our install manager and the homeowners to go over final locations, details, and discuss any questions before getting started. This process locks in all the specifics, providing peace-of-mind during your installation process!
For the install, our crew of Mike and Tom arrived at 8:00am Monday morning and got right to work! We cover anything left out in plastic and place drop cloths on the floor to protect your belongings from any dirt or damage. In a quick four days, they were able to get the system installed and up-and-running.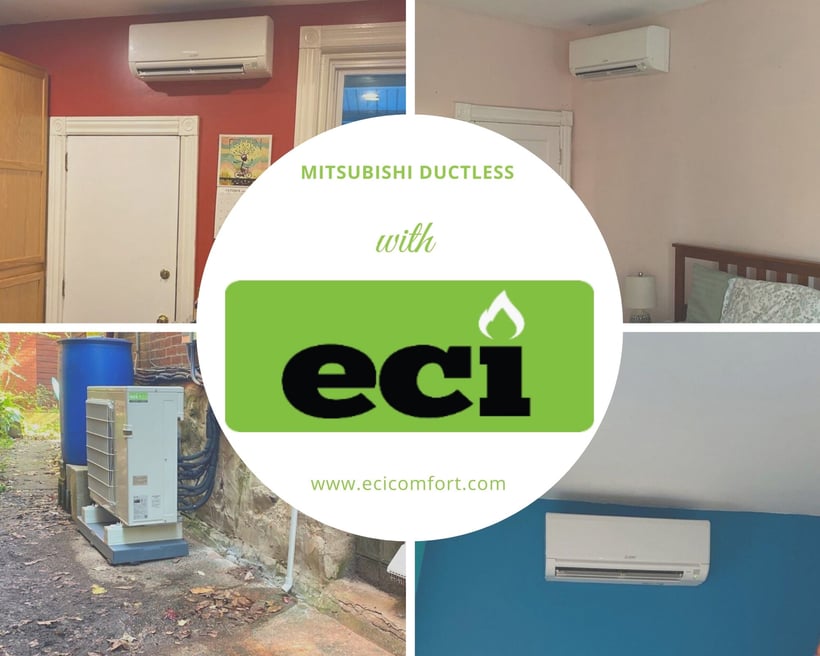 Nothing could be better for a Philadelphia home than an efficient, year-round comfort system. This Mitsubishi Ductless Mini-Split system will save the homeowner money, as well as increase the value of the home. So not only is ductless an immediate solution, but also a great long-term investment. Finally, a permanent air conditioning solution!
Check out this awesome 5-Star review from our homeowners!

---
ECI Comfort specializes in installing Mitsubishi Ductless Mini-Splits in Philadelphia, PA. If you are interested or would like to know more, click the button above or reach us at (215) 245-3200 or info@ecicomfort.com!