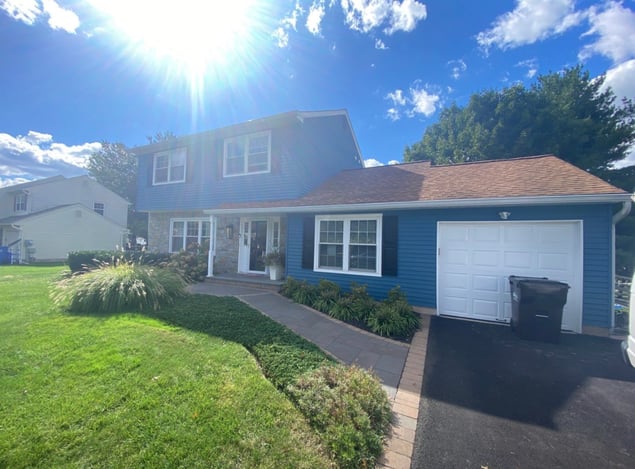 Our homeowner, Dan, is building an addition on the back and basement of his beautiful home in Yardley, Pa. This new living area will feature a family room and home gym, adding valuable space to be used by his entire family! His home is currently heated and cooled by a ducted air conditioner and furnace, meaning this added space will not have existing ductwork running to and through it. Since it will need to be heated and cooled to maximize comfort, Dan wondered what could be done.
Enter Mitsubishi Ductless Mini-Splits -- the perfect system for added "zones" in your already conditioned home! With Mitsubishi Ductless, ECI Comfort can install multiple indoor units all connected to one outdoor unit, providing perfectly tempered "micro-climates" to these new zones. Plus, Mitsubishi's Hyper-Heat model heat pump not only provides air conditioning but a year-round heat source as well. Read more about Mitsubishi's Hyper Heat heat pump here! For now, let's continue with Dan's story!
First Steps
The first step in having a new Mitsubishi Ductless Mini-Split system installed by ECI Comfort is giving us a call or checking out our website for more information. Once you are ready to improve your home's comfort, one of our ductless specialists, Darren or Joe, will head out to meet you and discuss your options.
If you're ready for your own comfort solution, click below!
For this project, a local contractor reached out to see how ECI could help. After working with them on a recent project, he knew exactly who to call for a heating and cooling solution. The rear addition and new section of the basement were framed out and ready to have the drywall installed, so it was the perfect time to check it out!
Our specialist, Joe, headed out to Yardley to meet with both the contractor and homeowner to discuss different options for heating and cooling these new living spaces. Because they had already discussed a ductless mini-split solution in their planning phase, it was an easy conversation for Joe to have with them.
After a tour to see the new construction, some discussion on how the spaces were going to be used, and what the homeowner was looking for, Joe explained the benefits of adding a Mitsubishi Ductless System. Gaining zoned control of these new spaces was a bonus, as the basement area is being converted into a home gym. Since this space won't be used 24/7, being able to supply heating and cooling only when necessary will provide precise comfort along with energy savings! The Hyper-Heat system will also allow a full range of heating capacity, down below zero degrees Fahrenheit.
With all of these advantages, deciding on a Mitsubishi Ductless Mini-Split system paired with a Hyper-Heat heat pump was the ideal comfort solution. Let's see how this application compares to others below.
Ductless Mini-Splits as a Supplement Versus a Stand-Alone System
For this project, the new Mitsubishi Ductless Mini-Split system works as both a supplement to the whole-house system and as a stand-alone system, as it operates independently. The flexibility of these systems makes them truly unique to each different application, and can be designed to fit any comfort needs!
Hot and cold Spots
A lot of homes -- especially those that are older -- often feature a room or rooms that are never the right temperature; too hot in the summer while the rest of the house is cool, and too cold in the winter while the rest of the house is warm. In these instances, a Mitsubishi Ductless Mini-Split system provides the perfect balance. By creating a micro-climate in this hot/cold room, you can control its temperature individually from the rest of the home.
Air conditioning with supplemental heat
If you have an existing forced-air furnace and ductwork, adding a conventional air conditioning system is not very difficult, as the delivery method is already in place. If you have a boiler and radiator system, on the other hand, making this addition is not as easy. In this situation, Mitsubishi Ductless Mini-Splits create a perfect compliment.
For starters, you finally receive air conditioning in your home! As mentioned above, we also introduce zoned control of each area that an indoor unit is installed. The key here is the supplemental heating factor, especially during "shoulder seasons". During the milder weather, a Mitsubishi Ductless system can provide heat for your entire home! This prevents your boiler from short-cycling and wasting fuel/energy. By saving the use of your boiler for frigid temperatures and using a Mitsubishi system in between, you will allow it to run for longer periods of time, decreasing your fuel usage and saving money on heating bills!
Whole-home solutions
Going with a Mitsubishi Hyper-Heat system rather than a standard Mitsubishi Heat Pump system means you can heat and cool your entire home without the help of a boiler or furnace! The Hyper-Heat system is able to provide both air conditioning and heating throughout the entire winter and can maintain its full heating capacity below zero degrees outdoor temperature. Between designing a system to cover the necessary heating load and placing the indoor units in perfect locations, you can totally eliminate fossil fuels and switch to a high-efficiency Mitsubishi system!
The Install
Prior to any new installation, we meet at the home with our Install Manager and the homeowners to go over final locations, details, and discuss any questions before getting started. This process locks in all the specifics, providing peace of mind during your installation process!
For this install, our crew of James and Brian arrived at 8:00 on Monday morning and got right to work! We make sure to cover anything left out in plastic and place drop cloths on the floor to protect your belongings from any dirt or damage. In a quick day-and-a-half, they were able to get the system installed and up and running!
In the new addition, we used an FS model high wall unit featuring Mitsubishi's 3D I-See Sensor, which breaks the area down into hundreds of quadrants, providing precision heating and cooling where it is needed most! In the basement, we installed a recessed one-way ceiling cassette, providing the perfect finished look. This unit fits within ceiling joists, with a finished grille resting almost flush with the finished ceiling!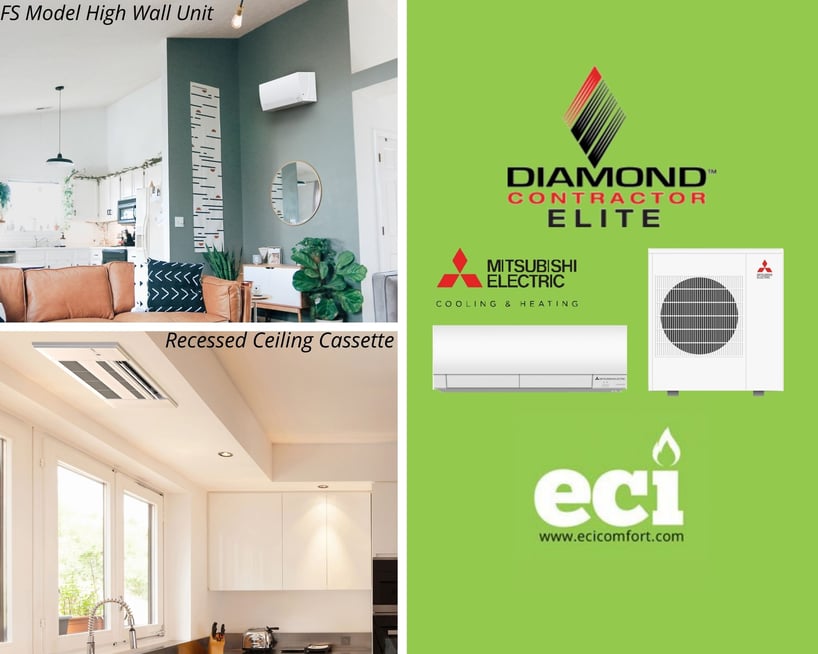 We cannot wait to hear how this Mitsubishi Ductless Mini-Split system provides our homeowner with amazing comfort for the new addition to his home! The spaces are not yet finished, and we look forward to sharing pictures once they are!
---
ECI Comfort specializes in installing Mitsubishi Ductless Mini-Splits in Yardley, PA. If you are interested or would like to know more, click the button above or reach us at (215) 245-3200 or info@ecicomfort.com!