Elfreth's Alley is one of the most historic streets, not only in Philadelphia, but also in the entire country. It's located in the heart of Old City between Front and 2nd Streets, just north of Arch. The alley, which is referred to as "our nation's oldest residential street," can trace its origins back to 1702.
So if our nation's oldest residential street can have central air, then what are you waiting for?
From the minute you step onto the cobblestone street, you're taken back 300 years in time, when horse and buggies ruled the road and homes stood charmingly side-by-side. This picture of the street has become a symbol of Philadelphia and of the historically significant structures that the city possesses.
Back In The Day
Elfreth's Alley is named after Jeremiah Elfreth, an eighteenth-century blacksmith and property owner. The street began as one of many built around the Delaware River Water Front to accommodate tradesmen. Among the alley's residents were different tradesmen and their families, including shipwrights, silver and pewter smiths, glassblowers, and furniture builders.
The Georgian, Federal, and Trinity style houses with cobblestone pavement that make up the alley were common in Philadelphia throughout this time. But in the late nineteenth and early twentieth centuries, industry began to change the street. Perhaps the first change was a stove factory that took its place in a row of residential houses in 1868. Eventually, factories surrounded Elfreth's Alley as the neighborhood developed into a center for industry and commerce.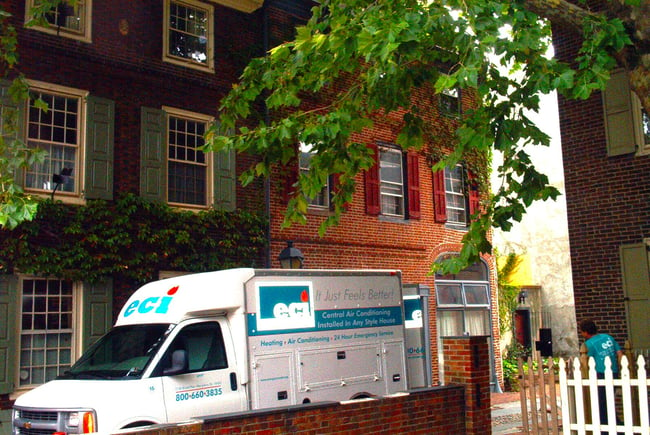 Cooling the Alley
Fast-forward to 2014, and two residents on the Alley wanted air conditioning installed in their tiny historic homes. This is where we came in. ECI Comfort was invited to come out, weigh their options, and make recommendations on providing a solution that would cool and dehumidify their homes while also maintaining the architectural and historical integrity.
After examining the Trinity homes, our technicians came up with a great solution: Mitsubishi ductless splits. Space in a Trinity is extremely valuable, and to run ductwork through the already limited space would be extremely invasive and wasteful. Instead, ductless splits would provide the maximum level of comfort with both heating and air conditioning, while maintaining the precious space and aesthetics of the homes.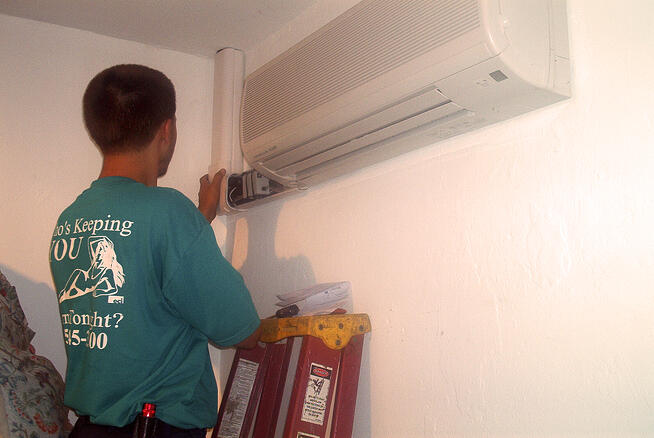 Sometimes Ductless is More
Mitsubishi Electric has been producing ductless splits for years now. Originally popular for decades in places like Europe and Asia, these systems have recently been taking over the retrofit market in the U.S., and especially Philadelphia, because of the many homes that were built before central air and ductwork were commonplace.
Ductless splits allow for the heating or cooling of either specific areas of a home or the entire house. These split systems are also extremely quiet and effectively offer treated air throughout the home. Not to mention, they are easily maintained and a cheaper option for homeowners that lack ductwork. Plus, since you're able to only cool and heat the spaces you want as needed, Ductless Splits are a great energy saver.
Mitsubishi Inverter Compressor Technology (ICT)
Inverter Technology means no ups and downs or on and offs. Conventional heat pumps cause uncomfortable temperature fluctuations while inverter-driven pumps are able to self-adjust, providing consistent room temperature even when the outdoor temperature dips below zero. With ICT systems, you can consume only the energy you need and deliver only the amount of hot or cool air needed to achieve the desired temperature – no more, no less.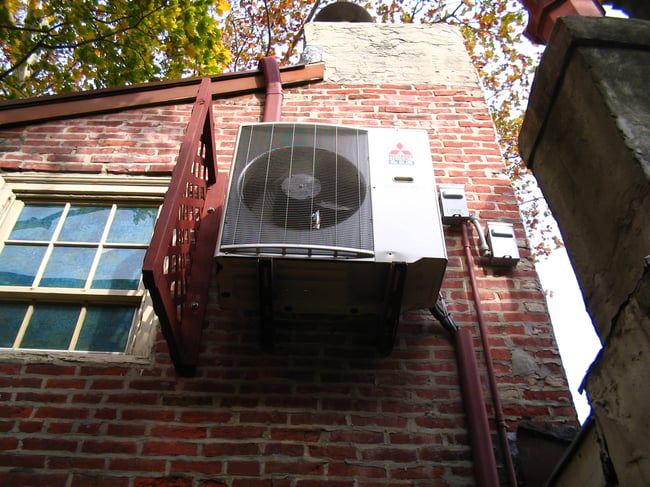 The Wrap Up
ECI takes pride in making these historic homes comfortable again. We were fortunate enough to introduce this heating and cooling system to an iconic street in Philadelphia, and allow residents to achieve maximum comfort without spending an arm and a leg!
If you'd like to see if a ductless split system is right for your home, click the buttons below to learn more and schedule an appointment or call ECI Comfort at 215-245-3200.