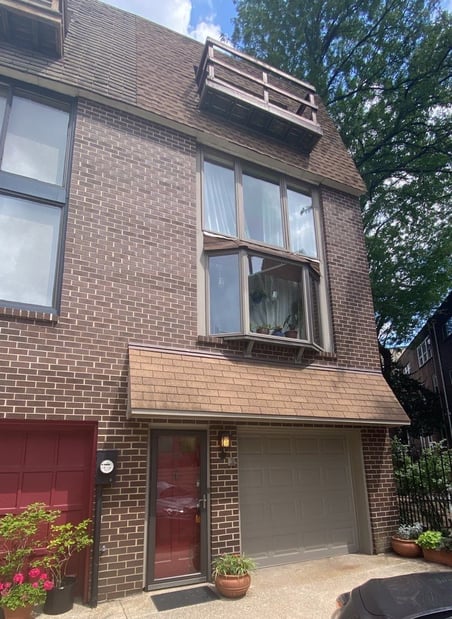 Its Getting Hot in Here
This beautiful Fairmount row home was hiding a secret inside that caused its homeowner, Danny, concern and urgency to act. An older, dying heating and cooling system had reached its final blast of cold air, leaving an unconditioned house in the furnace of a brutal Summer heatwave.
Danny reached out to ECI Comfort after doing some Google searching and seeing our experience and knowledge of Mitsubishi Ductless Mini-Split systems. In his home, there was an outdated Carrier heat pump ducted HVAC system. Not only did the system stop working, but it never worked to his family's comfort level in the first place.
The problem with ducted systems in homes like this is that they can never produce even temperatures throughout. The ductwork can take upwards of one-third of the space from the home, making weird twists and turns to reach from the basement to third floor. Air is simple -- it likes to take the path of least resistance. When there are all kinds of crazy resistance in ductwork that looks like a twisty slide at a children's park, the differences in temperature from the first floor to third floor could be up to 15 to 20 degrees!
Once the system died, Danny was interested in a different solution. He already had an older single-zone Mitsubishi Ductless Mini-Split in a third floor office (hmm, wonder why the previous homeowner needed to add that 😅), so he was interested in how that may translate to a whole-home solution.
When I arrived to his home for the first time, I immediately felt how hot it was and understood Danny's urgency to act. He was extremely concerned for his daughter and wife, who have had trouble sleeping in the hot and humid conditions. We walked through the home, discussing how a Mitsubishi Ductless system would improve the situation tremendously.
After agreeing on a plan of attack that night, I brought out a couple of temporary air conditioners to help his family get comfortable until we were able to get the equipment for his installation. Luckily, we were able to receive everything within two weeks, and began a comfort transformation.
The Install
The comfort system providing a solution to our homeowners needs here is a four-zone Mitsubishi Hyper-Heat Ductless Mini-Split system. In this situation, we are using a five-zone outdoor unit to provide our homeowners with an extra port for a soon-to-be bedroom in the basement. With a five-zone Hype-Heat system, part of the installation includes a branch box, which we will explain a bit more below. The las step was to remove the existing outdoor heat pump to create a spot for the new outdoor unit, and re-use an already soffited space for a line set. Indoor ductless mini-splits were placed in the living room, master bedroom, daughter's bedroom, and office. Let's dive in!
The outdoor unit
Our outdoor unit here is a five-zone Hyper Heat heat pump. It is mounted upon a weather-proof pad, with risers to keep it above snow level. It takes up less space than a conventional heat pump and is "whisper quiet," meaning even when it is running at max capacity, you will never hear it! The Hyper-Heat model is able to provide both cooling and full heating capacity at subzero temperatures, making it a year-long comfort system! Below, we can see the transformation from a loud, colossal beast to a modern and quiet Mitsubishi system.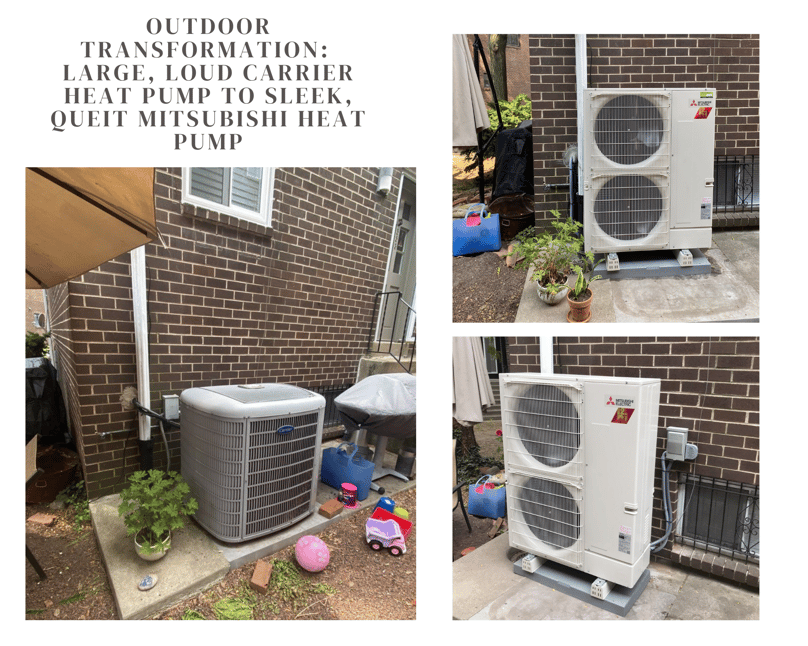 The indoor units
Heading inside, we installed four indoor Mitsubishi Ductless Mini-Splits. With ductless mini-splits, each room/area of the home gets its own unit. A major benefit of mini-splits are their zoned control, something that most ducted systems do not provide. This allows individual control of each unit or room -- having units on or off, different desired temperatures, and even heating and cooling throughout! In the living room and first floor zone, Danny and I decided that a FS model unit would be best. This upgraded indoor unit provides advancements like triple filtration and Mitsubishi's 3D I-See Sensor. The I-See Sensor is an infrared scanner that breaks the room or area down into over 700 quadrants, scanning for hot and cold spots. The unit then automatically directs treated air to the areas that need it most, creating an even better level of comfort. Take a look at a few of the indoor units below!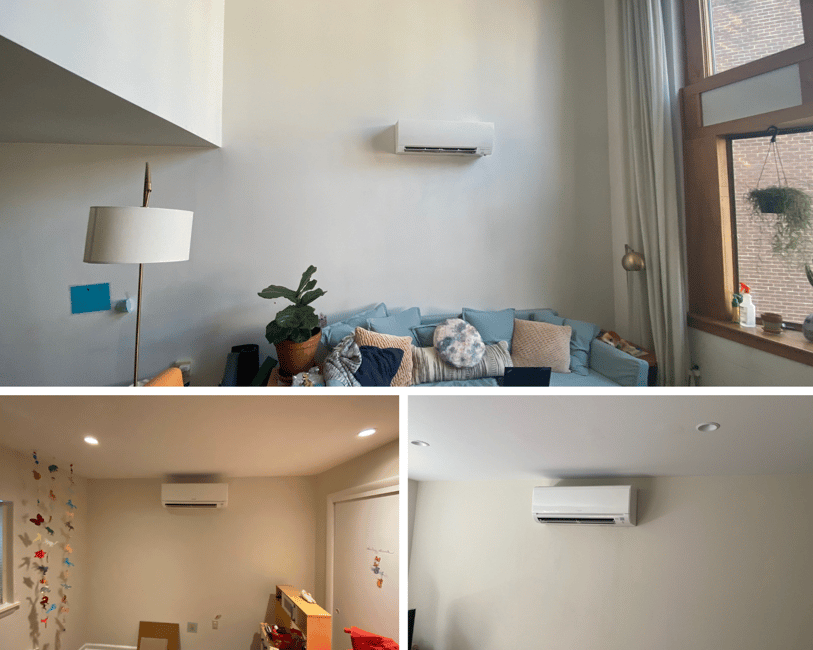 The last of the indoor equipment, for most larger multi-zone Hyper-Heat systems is a branch box. A branch box is a central panel-like unit. It is located inside, typically in a basement or closet, and feeds refrigerant to the indoor units. One line set feeds to it from the heat pump, and then it feeds individual line sets to each indoor mini-split. This allows for better load diversification, controlling the flow of the refrigerant. We mount them on a black-painted piece of plywood to help make it aesthetically pleasing. See it below!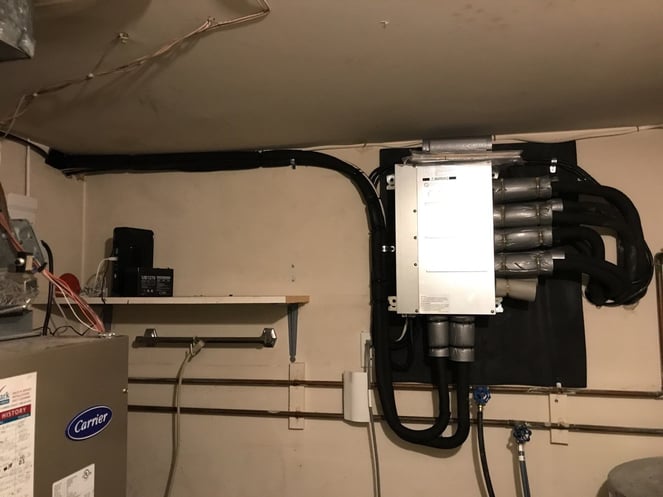 The Results Are In....
Following the completion of the install, I stopped back out to Danny's home to walkthrough the finished project and collect our temporary AC units. He was beyond happy with the results! From not having air conditioning to having a fully-functioning zoned Mini-Split system, he and his family could not be any happier. Danny was very pleased with our installers Stephan and TJ, and how hard they worked throughout the week to get this done. He appreciated their cleanliness, friendliness, and communication.
This project is another terrific way to show the functionality and flexibility of Mitsubishi Ductless Mini-Splits. Even in a home that previously had a ducted conventional system, the end result of zoning, better humidity reduction, and air purification leads to much better results.
Does our project here in Philadelphia sound familiar to your own comfort concerns? Reach out to ECI Comfort today to see how we may help!
---
ECI Comfort specializes in installing Mitsubishi Ductless Mini-Splits in Philadelphia, PA. If you are interested or would like to know more, click the button below or reach us at (215) 245-3200 or info@ecicomfort.com!