Our homeowners, Nolan and Christine, couldn't go through another summer roasting inside their North Philadelphia rowhome.
Nolan and Christine wanted to make their first home together their own. One necessity was making the home comfortable -- not only for themselves but for future homeowners as well. With just window units for cooling, they knew they needed an upgrade before going through the next humid Philadelphia summer -- especially in their area of the city. "In the summertime, it's 20 degrees hotter in this part of the city than it is in the coolest part of the city," Nolan explained.
That's why he spent over two months learning about ductless mini-splits and watching videos to prepare for another DIY home project. But in the midst of his research, he came across ECI's March Sadness competition.
March Sadness Giveaway
Our March Sadness giveaway could not have been at a better time for Nolan and Christine. With the tournament, they got the chance to enter their "sad" HVAC unit, collect votes from friends and family for their "team", and then be seeded and matched with a corresponding team in the NCAA March Madness tournament. To learn more about the competition, watch the video below.
Christina joked that because she gets tired and hot in the middle of the night, she'd (unfairly😉) get angry at Nolan, which is why he decided to make the team name "Love Not War". They got their friends, family, and colleagues involved in the fun by asking for votes for their team. Nolan, a high school teacher, would share the voting link with his coworkers at the end of team meetings. Christine's intramural softball team even got very involved in supporting the tournament after she explained that if Kansas won March Madness, then she would win a new AC system. "By the end of game, our umpire was like 'good luck, go Kansas!'"
After their team received a high number of votes, they were assigned No. 1 seed Kansas Jayhawks. From there, fate was left up to how the Jayhawks performed.
Fast forward to the Championship game, and their team was one of two remaining. Kansas had a rough start but eventually won a championship title for themselves, and a brand new HVAC system for our homeowners.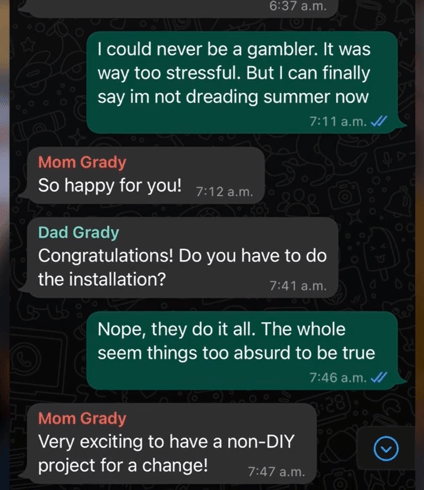 "When Kansas was losing by 17, I had lost a lot of hope at that point," Nolan said. "Things were kind of quiet, then all of a sudden with four minutes left, my phone starts lighting up again...[I was] like: this could actually happen, are you serious right now?" When Christine asked Nolan if Kansas won the game that night, he replied with, "I'm just worried...about how cold it's gonna be this summer!"
After going through many DIY projects to make the home their own, they were excited that this one was going to be handled for them.
Upgrading from Window Units to Ductless Splits
After their big win, ECI got to work designing their new Mitsubishi Ductless system. Nolan and Christine were excited to replace their window AC units with sleek, efficient mini-splits before the summer heat arrived.
"We wanted to make it a comfortable home for us, and also for future owners," Nolan stated.
Christine also explained how the window units were bulky and difficult to put in, especially with their different-sized windows. She went on to say that if you're not sitting right near the unit, you can't even feel the cool air. "Many times, I've been laying there with an ice pack on my head in the summer because it gets so hot."
Benefits of a Mitsubishi ductless system

We landed on a two-zone system -- one outdoor heat pump and two indoor ductless air handlers.
For the indoor units, we went with the GL Model. This model has the lowest noise levels in the industry at only 19 decibels, which is comparable to leaves rustling or a whisper. The GL also comes in a variety of sizes and a more compact design that can fit in any space. This is ideal for Philadelphia rowhomes where space may be limited.
Moreover, the GL comes has available features such as the Nano-platinum Filter, Electro-static Anti Allergy Enzyme Filter, Swing Mode, and Powerful Mode. To learn more about different Mitsubishi units and their features, click below.
Lastly, while the ductless units will mainly be used for cooling, they'll also be a great source of supplemental heat. Nolan told us that when he was remodeling his kitchen last year, there was a bit of a hiccup -- leaving them without their boiler heat for two weeks. "It would've been nice to have a second system that worked at that point. I was sleeping with a sleeping bag in bed...I was also doing Zoom school at home, so [I was] shivering while [I had] these classes going on."
With a heat pump that functions as both a cooling and heating system, our homeowners won't have to worry about sweating or shivering again. "It'll be nice to have an actual functioning system for the summertime, but also for the winter too."
We are so happy that we could provide Nolan and Christine with a brand new system to enhance the comfort in their new home, and we thank everyone who participated in the giveaway!
---
ECI Comfort specializes in installing Mitsubishi Ductless Mini-Splits in Yardley, PA. If you are interested or would like to know more, click the button above or reach us at (215) 245-3200 or info@ecicomfort.com!