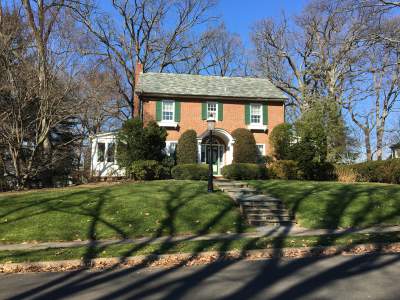 Some may think that installing a mini-split on a wall in their home would create an eye-sore; but what if the best looking mini-split is the one you don't see? This is the story of a Mitsubishi ductless install for Mr. and Mrs. G of Doylestown, Pa.
ECI Comfort recently had the opportunity to install a Mitsubishi MSZ-FH12NA in the family room of a classic brick colonial that a local painter from the Doylestown area painted with a Faux Wood finish. Out of the many attempts to paint indoor units that we've seen over the years, we've never witness one done quite as well as this!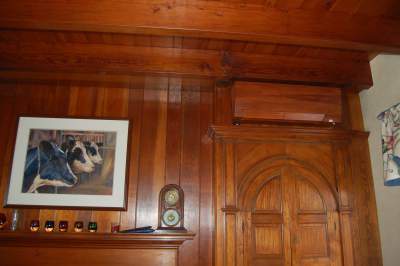 There was a time when a ductless system was an option only when nothing else would possibly work. We can't tell you how many times we've heard people say "I don't want to see that thing on my wall!"
While we hear that less these days, it is still a big objection from many homeowners that are looking to solve their comfort problems. But it's important to note that ECI Comfort has been a Mitsubishi Diamond Dealer for over 20 years, and the equipment is almost always trouble-free. These systems also generate more word-of-mouth referrals than almost anything else we do. And if these two reasons aren't enough to push your aesthetic concerns to the wayside, then this will: ductless mini-splits can be painted and installed to match your home's current design!
Whether you need a whole home solution for a house that has radiator heat and no ductwork, need to fix a problem area that doesn't adequately heat or cool, or want to add a separate heating/cooling system to an addition, ECI can help.
Ductless Mini-Split Revolution
Some would say that we are in the middle of a "Ductless Revolution," and the numbers back that up with a growth rate that has exceeded every other segment of the HVAC industry over the last few years. As more and more homeowners are experiencing the benefits of ductless technology and sharing their experiences, ECI is getting more requests for estimates. Mini-splits are especially great for older homes, and they are also better for the environment and save you money. Sounds like a no-brainer, right?
Sample of Mitsubishi Designer Series in Modern Setting
At ECI Comfort, we specialize in updating HVAC systems in older homes that were built long before air conditioning was invented. While we are benefiting from this "Revolution" and the newer generation of comfort and technology seekers, we are still very much involved with the older generation of homeowners that have lived in these historical treasures for most of their adult lives.
The character, history, and memories that come with living in an old home for a long time are beloved aspects to many our homeowners, and the same goes for Mr. and Mrs. G. These two are treasures themselves, and we were very lucky to work with them on their beautiful Bucks County home.
Initial Discussions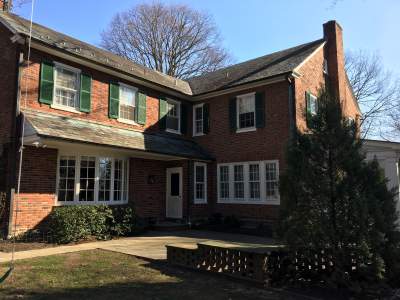 John and Susan called ECI to get an estimate on installing a Unico high velocity system in their classic brick colonial home. The couple had many friends that had ECI install high-velocity systems in their older homes over the years, and John was getting tired of installing window AC units.
The Unico high velocity system was perfect for the main the house; however the addition, which included their second-floor master bedroom and first-floor family room, was another story. With an 18-inch brick wall and an old roof separating the spaces, little to no closets, plaster and lath walls, and open-beam ceilings, there wasn't a great way to tie it into the main high velocity system. We also felt that these areas would be best as their own zones that could be controlled separately. Interestingly, this also happened to be where they spent the majority of their time. The picture shows a view of the rear addition.
We discussed how conditioning only these two rooms would be plenty for how they lived in their home. This is when we suggested that they consider using ductless mini-splits for these areas.
John agreed that this was the perfect solution and, after all, these were the only two areas that they still used the window units. But John, being the good husband that 50 years of marriage confirms, did what all good husbands have learned to do: he told us he'd need to run it by Susan first. And Susan said, "you want to put what on my wall? Are you crazy?!"
Weeks went by as we worked with John to find a way to install the high-velocity supply tubes without disrupting the look and feel of the rooms in the addition. John finally reached out to his good friend and contractor, Tuck, who had been working on the home since before they bought it 45 years prior. John was looking for some insight into the framing and possible creative ways to enclose or soffit the outlets.
Funnily enough, after taking a closer look at the house, Tuck asked Mr. and Mrs. G if they'd ever heard of ductless mini-splits.
The Install
Luckily, Tuck had a genius idea: he suggested that we install the bedroom ductless unit right in the book case -- they were both a similar shade of white -- and said that he could make some tweaks so that it would fit perfectly.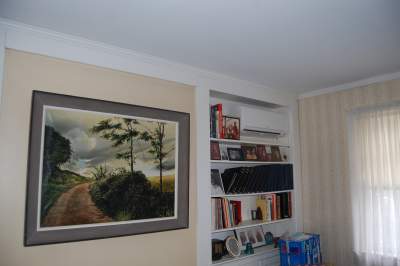 MSX-GL09 in the Second Floor Master Bedroom
He then suggested that they call their mutual friend, Mark the painter, and see if he could do something with the look of the unit in the family room. Tuck said he'd seen Mark do some pretty cool work before, and he was confident that he could help blend the Mitsubishi FH Ductless unit in with the wood paneling and cabinetry.


We definitely think Tuck was right!
---
Working with Mr. and Mrs. G, Tuck, and Mark allowed us to install the most ideal heating and cooling system for this older Bucks County home.
With the Mitsubishi ductless system, they can be comfortable without affecting the look of their historic home. To get more information or schedule a free consultation, click the buttons below or call us at 215-245-3200.