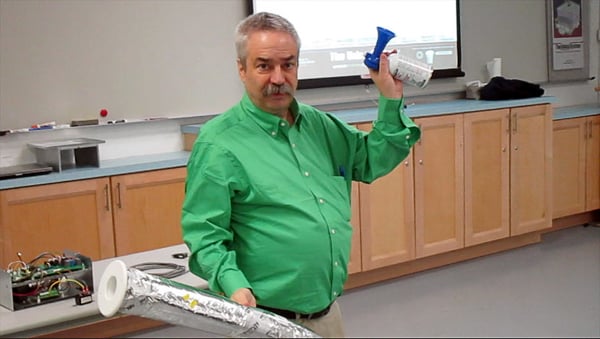 Unico's resident trainer Pete Williams is about to blow your mind!
There are a lot of choices when it comes to home comfort systems AND a lot of misinformation out there. In this article we're going to tackle the claim that small duct, high-velocity (SDHV) systems are loud or noisy.
Some consider high-velocity to be the "Cadillac" of home heating and air conditioning systems. They deliver year round comfort (heating and cooling), use aspiration, a circulation system that mixes the air creating even temperatures in every room and they're ideal for older homes with limited space and unique architectual elements.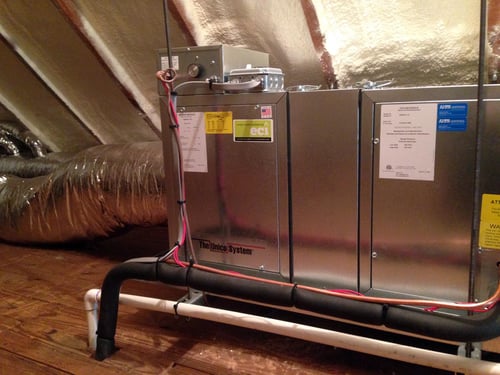 A Unico air handler nestled nicely in this Elkins Park attic.
Meanwhile, some HVAC companies shy from recommending SDHV systems because they believe they're too noisy. For instance, in THIS ARTICLE we found online, it lists noise level as one of the disadvantages of these systems. If you really want to be confused on this issue, check out the comments section of that article!
So, what's really true about these mysterious high-velocity systems?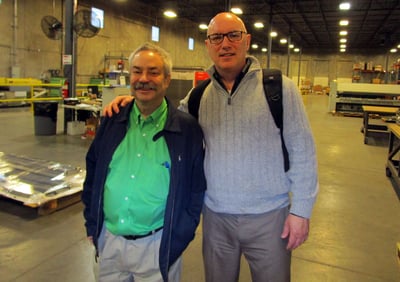 Recently, I took a tour of Unico's brand new metal fabrications facility in Arnold, Missouri. Unico is considered the leader in SDHV systems. While I was there, Unico's resident trainer Pete Williams gave me a close and personal look at what goes into making their system and what makes it so quiet. This was my third trip out to Unico and as with many things, I had forgotten some things over the years. ECI has been installing high velocity systems for many years now and we have a 100% quiet system gaurantee, so I know how quiet these systems are when installed correctly. However, Pete's demonstration should go a long way in ending this debate once and for all by blowing an airhorn into a piece of their flexible tubing. You can watch the video below:
There you have it; try doing that in a conventional metal duct! Pete also mentioned how he recomends installing 6 outlets per ton, which helps disperse the airflow out over more outlets. At ECI Comfort, our installations average 6.5 to 7 outlets per ton and is a key factor in being able to provide our "Quite System Guarantee".
Anytime we've ever seen a system installed by others that was noisy, it usually comes down to three things: 1) not enough outlets. 2) kinked tubing. 3) worst of all, no sound attenuator tubing. Whats the common theme here? Everyone of these saves a lot of money, but makes the system loud.
Here at ECI Comfort, we've been installing high-velocity systems for over 20 years. We can confidently tell you that, if you have a noisy high-velocity system, then it was most likely installed incorrectly. If you'd like to learn more about these systems you can check them out on our website, give us a call at 215-245-3200 or click the button below to schedule a free consultation.