LAST UPDATED JANUARY 2022
A Unico high velocity system is specifically designed to fit each home and can provide cooling, heating, or both. Because of this, the price of a Unico system can vary based on many factors including the size of your home, construction and age of your home, climate and region where you live, difficulty of the project, labor costs by market, special product features, etc.
What is High Velocity AC
The Unico System is a small duct, high velocity (SDHV) system that offers superior, draft-free comfort in any type of home. However, it is especially great for older homes, stone homes, and rowhomes without room for traditional ductwork. It also works well with new construction due to the flexible installation process.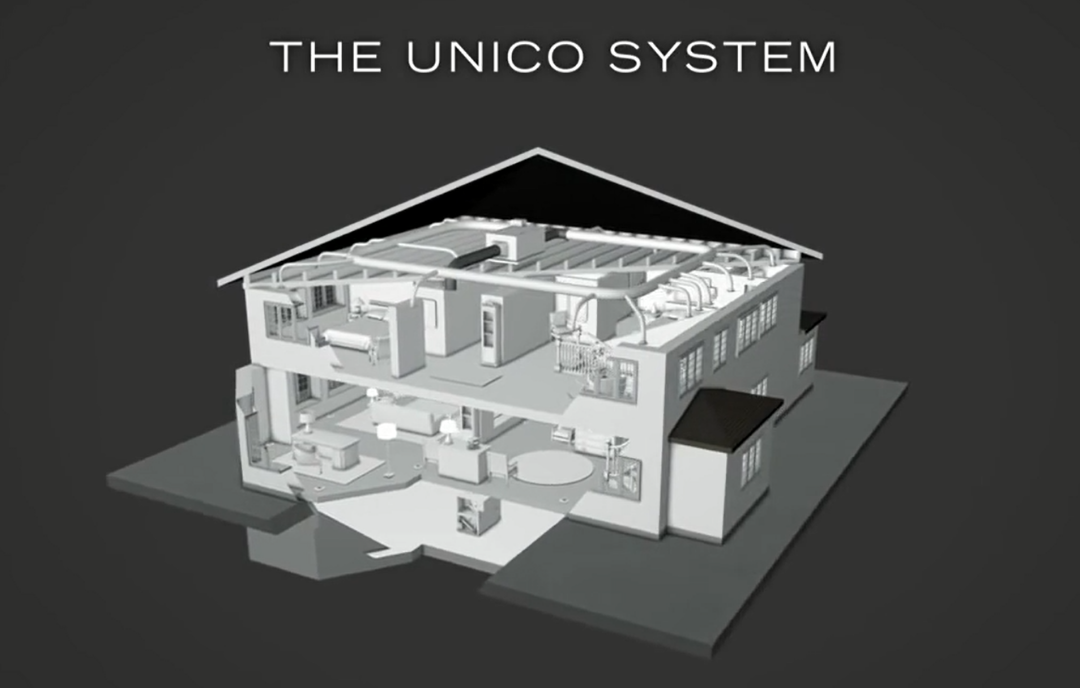 Benefits of Unico high velocity
High velocity systems are unmatched and supply many benefits, making them well worth the investment. For one,

they use the process of

aspiration. Unico's website describes aspiration as how

the "air enters a room and creates a gentle suction around itself that draws the room air into its stream of air. Aspiration creates an even, draft-free environment. This has the net effect of lowering the effective room temperature by two to three degrees. From room to room, floor to floor, and floor to ceiling, the temperature differential is no greater than two degrees from where you set the thermostat."
They are also draft-free and whisper-quiet, making them hardly noticeable. A Unico system removes up to 30 percent more humidity than conventional systems and, due to its small vents and ducts, can be easily hidden throughout the home.
What goes into pricing the system
For a Unico system, the complexity of the job is probably the most important factor out of the list. For example, installation in an attic would be less difficult than installation in a finished third floor. In other words, the accessible space plays a big role in figuring out the cost along with the other factors like the type of home (e.g. new construction versus an older home that requires a retrofit).
Additionally, it's important to be transparent in saying that recent supply chain issues may also affect price. With such high demand for new/upgraded HVAC systems, paired with low/delayed supply, prices are definitely on the rise. In the past six months, equipment prices have increased as much as 20 percent! Currently, all Unico products are on a four to six week lead time when it comes to ordering parts.
With this being said, the average cost tends to be around $25,000 to $30,000. Again, this is affected by factors relating to your home and your specific needs. Having more rooms/floors, more square footage, and bigger equipment will all contribute to price increases. The layout of the supply tubing and the choice between standard air conditioning or a heat pump will also make a difference.
For exact pricing and details, a Unico expert contractor, like ECI Comfort, will be able to provide you with a consultation. Our specialists can meet with you to find out your specific wants, needs, and preferences, then put together a total system that will best fit your home.
While a Unico high velocity system may seem steeply priced, it's actually competitively priced compared to the overall cost of a conventional central air system. Unico's website states that "because [it] requires little to no remodeling to install, build-out costs are virtually eliminated, providing you a far superior system for essentially the same costs as a conventional system!"
---
ECI Comfort is an expert Unico contractor. If you live in the Delaware Valley/Greater Philadelphia area and would like to find comfort within your home, visit our
website
or give us a call at 215 - 245 - 3200 to learn more.