In the past couple years, weather has been unpredictable. Heavy snow in Texas, increasing occurrences of tornadoes and hurricanes on the East Coast, and harsh flooding have been the root of many power outages. After a record-setting 2019, power outages proved to be even worse in 2020. With abnormal weather patterns becoming an increasing concern, many homeowners are looking for alternative home power sources, none more popular than Generac generators. Although, be prepared to wait for your backup power as order volume has put another product on backorder.

Extreme Weather Events Call For Preparation
Generac CEO On Supply Issues
Weather patterns have become extremely unpredictable over the past few years with extreme weather events occurring more often. This has pushed homeowners to focus on ways to prepare their homes to retain power in events of natural disasters and other weather events.
Back-to-back record years for power outages -- state and countrywide -- have created a surging demand for backup generators. Generac produces backup generators on the commercial and residential levels and has been operating at full capacity throughout the pandemic. This is to ensure homeowners can get the products they need for home improvement and retain their power even in the harshest weather.
However, even at their full production capacity, the demand has been too much to handle. This uncommon wave of demand has bottlenecked suppliers, such as Generac, causing yet another supply chain issue.
Aaron Jagdfeld, CEO of Generac, states that they are "doing everything they can" and still "can't make them fast enough" to keep up. Everything is back ordered due to this demand. Some contractors are even estimating six to eight-week lead times for generators. Because of this, it may take 9-12 weeks from the time an estimate is done to the actual installation of the generator. If you plan on preparing for the upcoming winter weather,

calling ahead to schedule an estimate is your best bet.
What Can A Generac Generator Do For You?
Covid-19, increase in extreme weather events, and rolling power shut-offs have all played a role in homeowners looking for supporting options for their home. These systems can provide you with peace of mind, knowing that even in the worst weather you can count on having power. The ability to run your appliances and AC or heat will not only keep you safe and comfortable, but give you peace of mind. Better yet, these permanent standby generators turn on automatically -- so all you'll have to do is sit back and relax.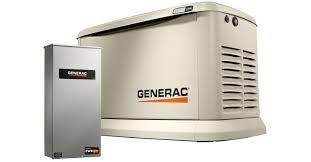 These generators give YOU the choice of what you would like it to run in case of a rolling blackout or other causes of a power outage. As for time of operation, this can depend on the fuel source and how many appliances are being run. For example, a 500-gallon propane tank that runs the whole home 24 hours a day can last about a week. Generators using natural gas can run as long as gas is supplied from the home. You can go without power, but why do so when Generac has the perfect solution for you?!
To learn more about what generator type is best for your home and how a generator can improve your home, visit the links below or give us a call!

---
If you live in the Delaware Valley/Greater Philadelphia area and would like to find comfort within your home, visit our
website
or give us a call at 215 - 245 - 3200 to learn more.