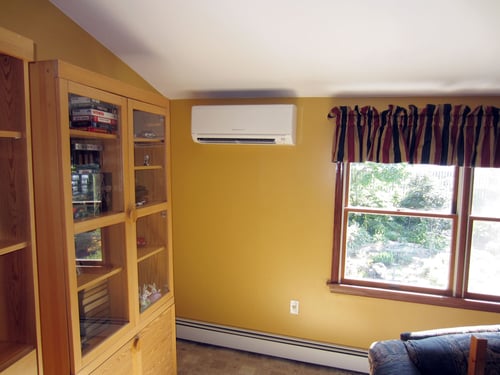 LAST UPDATED: January 2022
Living in the Philadelphia/Delaware Valley area and looking for a quiet, super-efficient solution to heating and cooling your home? Want to drastically reduce your energy costs? Look no further than the Mitsubishi Ductless Mini-Split system. Ductless mini-split systems are a flexible and energy-saving alternative to conventional AC systems, window units, and oil heat. But the important point is what exactly you can expect to pay for this modern comfort system.
Ductless mini-split technology has been around since 1959 but didn't become available in the U.S. until decades later. In Japan, ductless accounts for up to 90 percent of all HVAC systems sold; in Europe, it accounts for about 81 percent.
Unfamiliarity, lack of information, and other factors have slowed the growth of ductless in North America. But increasing education and high energy savings have homeowners and U.S. government agencies quickly taking notice. And, it's making ductless one of the fastest-growing segments of the HVAC industry.
A ductless system, on its most basic level, consists of three components:


Overall Cost
So, how much can you expect to pay to have a Mitsubishi ductless system installed in your home? Well, it depends.
Most standard installations can typically cost anywhere from

$5,000 to $20,000.

The price of the system is determined by five things:
The size of the unit

The type of unit

The number of areas (or zones) being conditioned

The degree of difficulty of the installation: how far the indoor and outdoor units are from each other and the type of construction will make a difference here. For example, when making openings to carry line sets, it is much more difficult and time-consuming to drill into a home with stone wall exteriors than it is for a home with wood frame construction.

Standard heat pump vs Hyper-Heat heat pump: a system using a standard heat pump costs less on average when compared to a system using a Hyper-Heat heat pump. Read more on the difference between the two here.
Due to the flexibility of these systems (whole house, partial house, one room, etc.), there are multiple configuration possibilities that can land the installation price anywhere in this price range. Luckily, you can possibly receive
tax credits
and local utility rebates when installing a high-efficiency system like this one.
Demand spikes, supply shortages
It's also important to mention that recent supply chain issues have increased lead time, and therefore price, for some equipment. Issues like furloughs, illnesses, and overall lack of certainty due to the pandemic are still affecting production lines and supply chains. In an article by The News, Andrew Tran, marketing manager of Noritz (a boiler and water heater manufacturer), noted that

"this coincided with an influx of demand from homeowners who suddenly had time to start home improvement projects."
With such high demand for new/upgraded HVAC systems, lower supply of some parts may be another factor affecting fluctuating prices.
Single Zone Vs. Multi-Zone
Single Zone Installation
Professional installation of the most basic, or single zone, configuration (consisting of one wall unit and condenser) will cost around $5,000 to $7,500. This layout is ideal for many kinds of applications like conditioning the air in a sunroom, garage, attic, smaller homes, etc.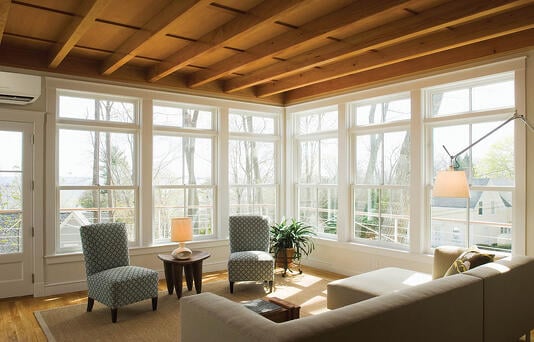 A single ductless unit is perfect for keeping a sunroom comfortable all year long
Multi-Zone Installation
Some homeowners install only one ductless unit for their home, whereas others install two to five units. It all depends on the layout of the home and what works best for the homeowner. A multi-zone system consisting of two indoor air handlers typically runs between $9,000 and $11,500.
More and more often ECI has been installing whole house systems with as many as eight wall units that can connect to a single outdoor condenser; so a general rule of thumb in calculating the cost is to add $4,500-$5,000

per indoor unit, again, depending on the model and the degree of difficulty. It's also important to note that one larger unit is often used to cool wide open spaces typically seen in open floor plans where the kitchen, dining room, and family room are all open to each other.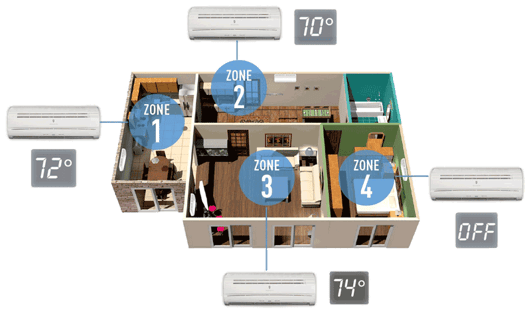 Overall Value
At first glance, the initial cost of ductless heating and air conditioning can seem steep. However, the benefits of its energy efficiency will save you a lot in the long run. Since there are no ducts, you won't lose treated air via leaky ductwork. Typical forced-air systems experience duct losses that can be as high as 30 to 40 percent of energy consumption. Ductless systems are also less expensive to maintain than traditional systems. Not to mention, with ductless there's the availability of promotional financing such as 0% interest for 48 months!
Plus, a multi-zone configuration comes with an additional energy saving benefit. The homeowner can control the temperature independently in any room where there is a mini-split. So if you're not using a room, you won't have to keep it heated and cooled along with the rest of the house like you would have to do with a traditional system.
Finally, you'll need a qualified Mitsubishi Diamond Elite contractor like

ECI Comfort.

Not all contractors are experienced with ductless, so make sure to ask your HVAC contractor how long they've been installing the systems. If you're interested in ductless for your home, give ECI Comfort a call at 215-245-2300 or click the button below to learn more and schedule an appointment.