The Daikin Fit whole-house air conditioner provides many benefits to you and your home. It is
designed to fit comfort, space-saving, and efficiency requirements while comfortably cooling your home all summer.
What is the Daikin Fit?
The Daikin Fit is a side-discharge, smart HVAC system that combines compact with comfort. This whole-home air conditioner connects to traditional ducted systems and provides a premium mid-efficiency inverter at an affordable rate. The low profile of this outdoor unit offers solutions when a traditional cube style cannot.
While cube style condensers and heat pumps are perfect for many applications, sometimes they just don't fit. This revolutionary Daikin unit, on the other hand, fits your budget, your home's physical restrictions, and your efficiency needs.
Features and Benefits of the Daikin Fit
Compact and versatile
One of the main benefits of the Daikin Fit is in the name: its compact style. The trunk-style outdoor unit is perfect when installation space is limited, which is oftentimes the case for apartments and rowhomes in Philadelphia.
The outdoor unit's slim profile is ideal for any location - whether it be a patio, roof, or terrace. Plus, it can be ground or wall-mounted, making it even more versatile.
Easy to service
The unit's slim style also makes it easy to install and service. Compared to a traditional cube-style system, it is lightweight and much easier to handle. The side panel also gives technicians easier access to service the unit during annual air conditioning tune-ups and service calls.
Another advantage is the Blue Fin Corrosion Coating, which helps to keep the coils clean and withstand the outdoor elements. This leads to longer condenser coil life and increased reliability.
Efficient
The Daikin Fit also differs from traditional systems due to its inverter (variable-speed) compressor. When the set temperature is reached, non-inverter systems will automatically power off causing the temperature in your home to rise. Once more cool air is needed, the unit will re-operate to condition the air. On the other hand, Daikin's inverter system runs continuously but adjusts the compressor's speed to meet the demand. Check out the graph below.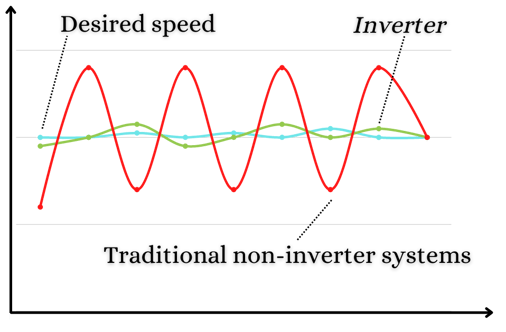 By maintaining the temperature more accurately, your home will no longer feel too hot or too cold. Picture this: a non-inverter system is like a car driving through the city- it stops and starts at every light, stop sign, and traffic jam.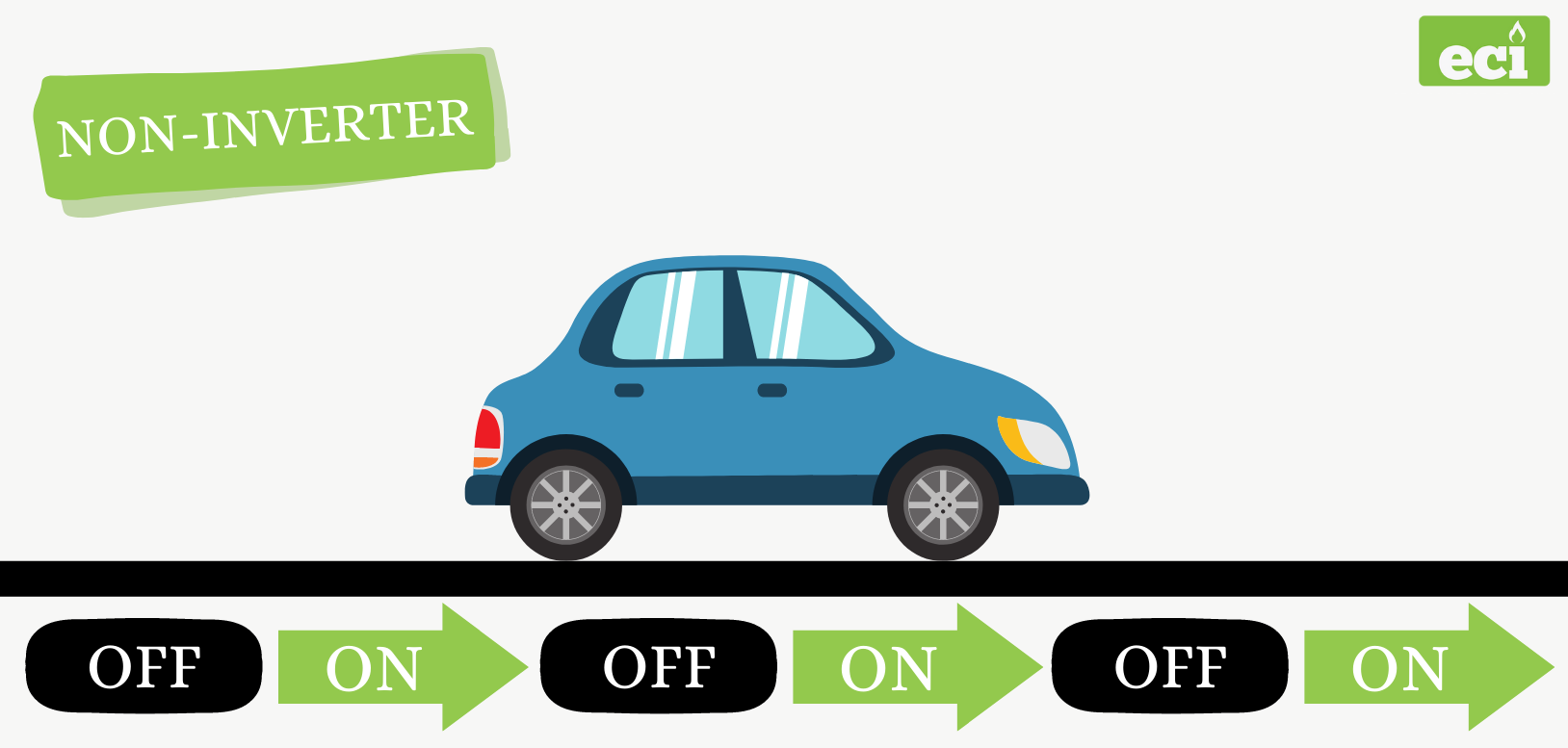 An inverter system is like a car driving on cruise control -- it drives consistently and smoothly at the desired speed. Inverter systems are ideal for indoor comfort and overall efficiency.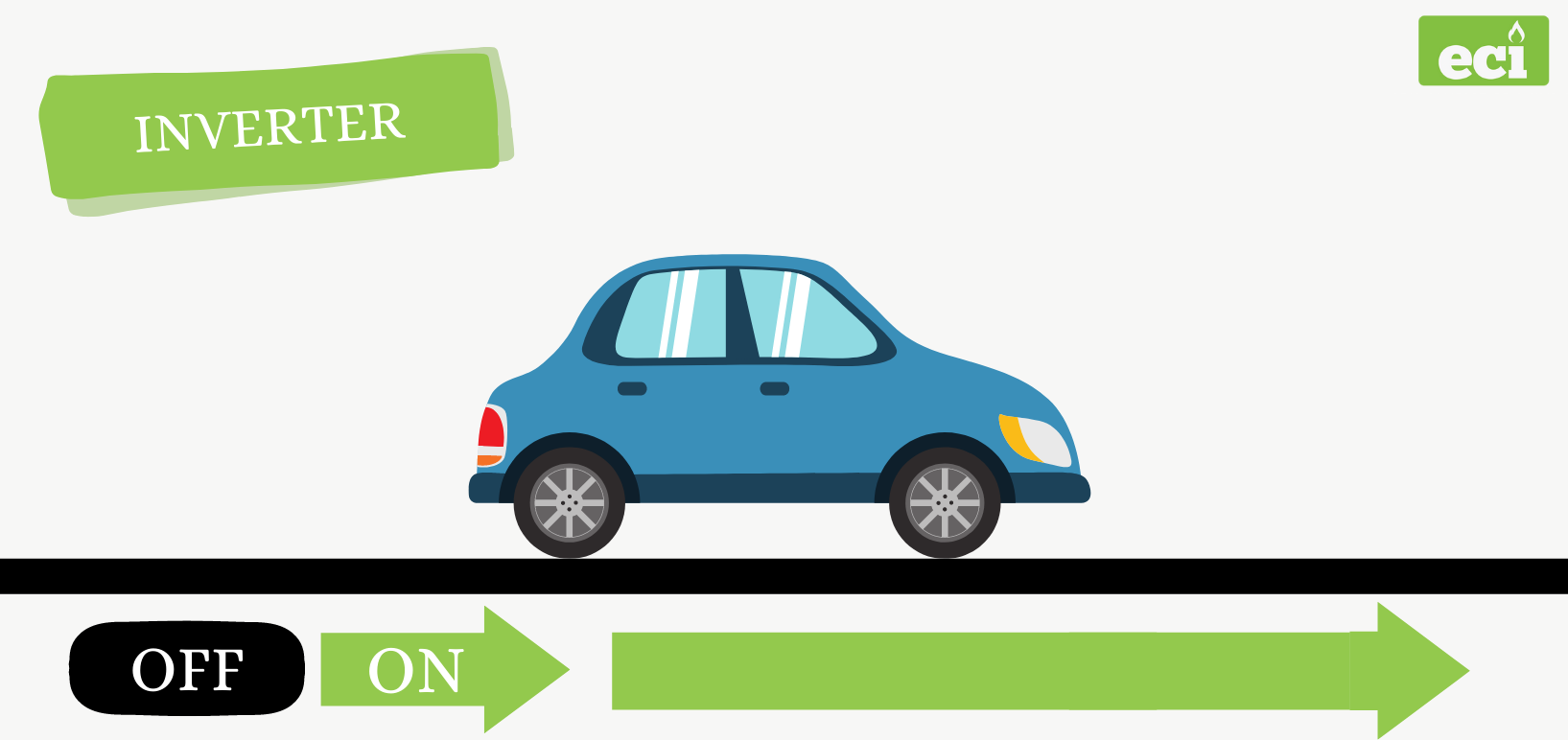 Moreover, the Daikin

Fit

has a SEER rating of up to 18.

SEER, or Seasonal Energy Efficiency Ratio, represents the cooling output of an air conditioning system over a 'typical' AC season, divided by the energy used by the system in Watt-hours.
We can use another car comparison to simplify SEER ratings: like MPG in your car, the higher the system's rating, the more comfort you will get from each energy dollar. A SEER of 13 or higher is considered to be good, so a system that can go up to 18 is exceptional.
Increased comfort level
Besides efficiency, the inverter system in the Daikin Fit is also beneficial to comfort level. By continuously running at low, energy-conserving levels, the air in your home is consistently filtered, ensuring fresh air throughout the day.
Additionally, as the air passes through the coil, it removes moisture and keeps your home from feeling muggy. The humidity control will keep you and your home feeling cool all summer.
Quiet
With traditional, non-inverter systems, undesirable sounds are typically present, especially during start-up. On the contrary, the Daikin Fit has a low dB(A), which is used to measure intensity of sound. The consistent operation at variable speeds will provide acoustical comfort both inside and outside your home.
Common non-inverter systems produce around 73 dB(A), while the Daikin Fit produces 56 dB(A). For comparison, a coffee grinder has a noise level around 75 dB(A), while a coffee percolator has a noise level around 55 dB(A).
With a quieter system, you can fully enjoy your outdoor space whether you are relaxing or hosting guests.
Not only this, but the Daikin Fit also utilizes a Swing Compressor. This advanced technology reduces vibration and friction, thereby reducing noise. It also improves efficiency and increases reliability of the system.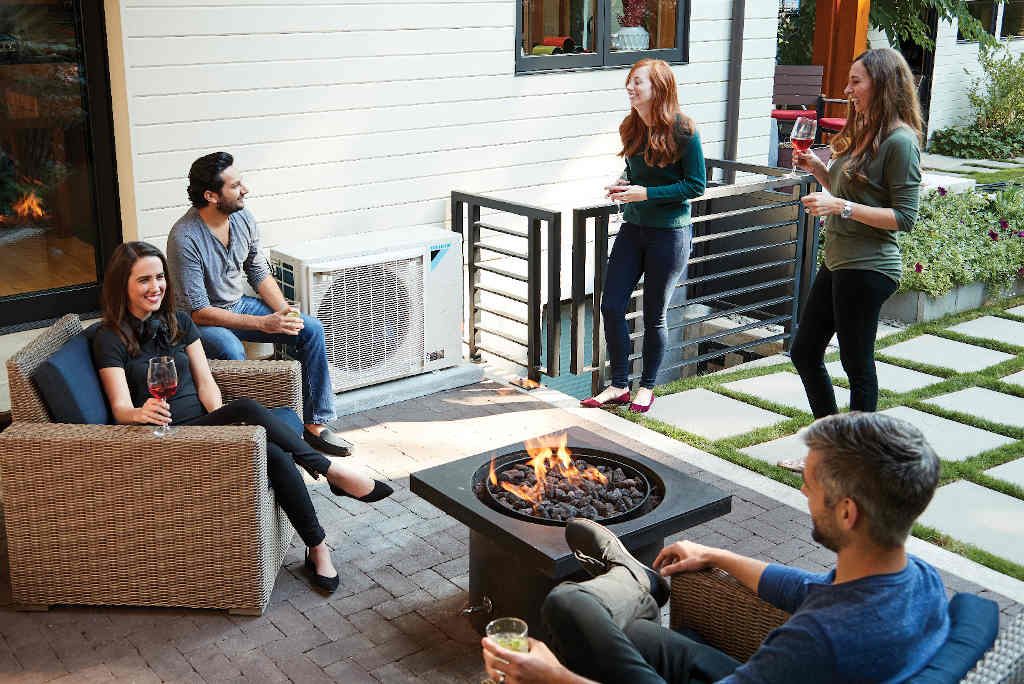 Should I Get a Daikin Fit for My Home?
A Daikin Fit system could definitely be the answer to upgrading your home comfort, especially if you live in the city or an area with limited outdoor space. As Daikin states, you can "reclaim your space in any way you see fit." This unit can fit in your small backyard, patio, terrace, rooftop, or even be mounted on the wall.
Even if you have ample outdoor room, you may just want a system that's quieter or more efficient. Regardless, the Daikin Fit is versatile and useful for all different applications.
To find out how a Daikin system fits into your home, contact your local Certified Daikin Dealer for an in-depth consultation.
If you live in the Delaware Valley/Greater Philadelphia area and would like to find comfort within your home, visit our
website
or give us a call at 215 - 245 - 3200 to learn more.