With more than 90 years of operation,

Daikin is a leading innovator and worldwide provider of advanced, high-quality air conditioning and heating solutions for residential and commercial applications. The Daikin One family of products includes smart, communicating heating, air conditioning, and indoor air quality solutions for your home.

Daikin's Smart Thermostats are the first to offer full two-way communication with Daikin HVAC systems. Continue reading to learn more about the features and benefits of the One Touch and One+ smart thermostats.
Daikin One Products: Smart Thermostats

In this blog, we'll cover both Daikin One smart thermostats. But it's also worth mentioning the other smart devices in this product family that can work with your smart thermostat.
The One Home Air Monitor is installed in your ductwork to detect and visualize air quality and recommend actions to help you improve your indoor air quality.
The One Home Mobile App lets you m
onitor and control your HVAC system from across the room, or from across the country. The app is compatible with all Daikin One thermostats.
One Cloud Services
enable your Daikin Pro dealer to receive notifications and alerts from Daikin on your system, enabling faster communication of alerts, and the ability to remotely adjust many settings.
Daikin One Touch Smart Thermostat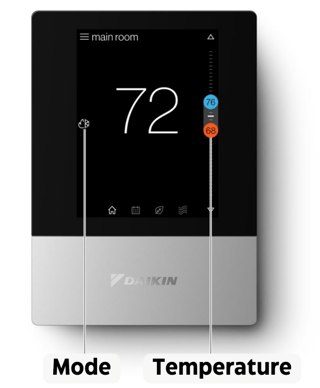 The One Touch smart thermostat is a sleek and modern controller for Daikin One systems. The minimalistic home screen allows you to easily adjust modes to switch between cooling, heating, auto, and off. You can also drag the set point above the current indoor temperature to activate heating, or below to activate cooling.
The thermostat's scheduling feature allows you to set temperatures that automatically adjust to your daily routine. The schedule clearly lists up to six events per day so you can enjoy ultimate customization that can be changed at any time.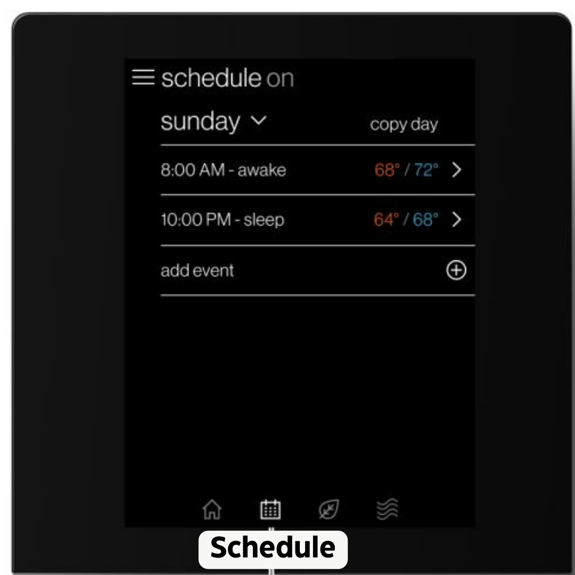 By working with your One Home mobile app and using geofencing, the One Touch thermostat knows when you've left the house and automatically reduces heating and cooling to conserve energy. This, in turn, saves you money on your utility bills.
Another gre
at feature of this thermostat is that it can monitor and display your home's indoor air quality indexes. It will display an estimate based on filter runtime or can show more accurate readings from the optional One Home Air Monitor.
Daikin One+ Smart Thermostat
The Daikin One+ smart thermostat can be adjusted by simply turning the dial on the right-hand side. The unique light pipe shows what mode your system is set to by glowing orange for heating and blue for cooling. The light can be turned off completely if you prefer.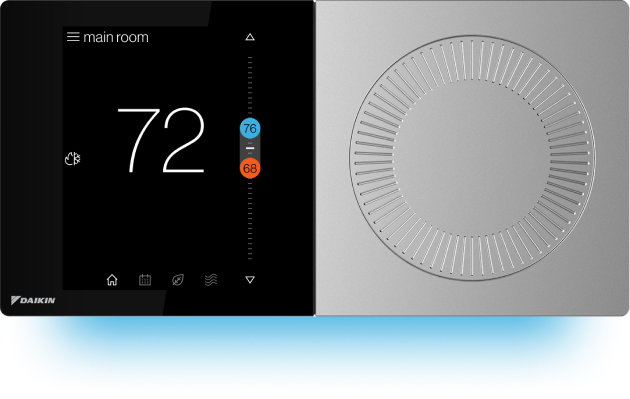 Similar to the One Touch model, you can easily tap the icon on the left and drag the set point on the right to adjust the mode and temperature. This model also reduces energy when you're away and monitors your indoor air quality.
Additional smart features include automatic software updates, remote control with the mobile app, alerts when you're away from home, and voice control capabilities.
The Daikin One Touch smart thermostat and Daikin One+ Thermostat have many similar features. Deciding which one to go with will depend on the type of system you have, what style you prefer, and other factors. See a comparison below: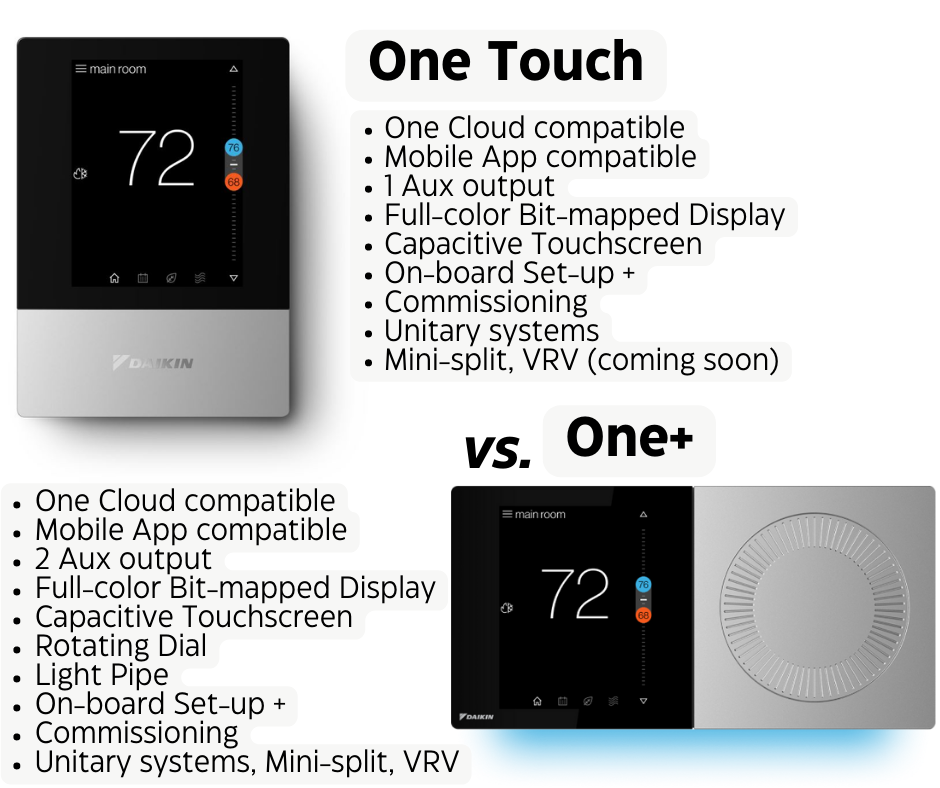 ECI Comfort is a leading Daikin Pro Dealer for Bucks Count
y, Philadelphia County, Montgomery County, and surrounding areas. Click
below to contact us for service, installations, or general questions.
---
If you live in the Delaware Valley/Greater Philadelphia area and would like to find comfort within your home, visit our
website
or give us a call at 215 - 245 - 3200 to learn more.