Mitsubishi Electric HVAC systems provide homeowners with unmatched energy efficiency, performance, and customized control. With a Mitsubishi HVAC system, your home can get comfortable heating and cooling year round while still maintaining lower energy bills, higher indoor air quality, and precise wireless control from wherever you are.

So, how does a Mitsubishi system work to give you all these benefits? Well, it's in the advanced technology. Keep reading to learn about each of the technologies that make these systems so superior.
Benefits of Mitsubishi Electric Technology
Inverter-Driven Compressor
Mitsubishi Electric systems come equipped with INVERTER technology that ensures the unit uses the exact amount of energy needed to cool or heat an area. The technology makes it up to 40 percent more efficient than traditional systems.
Traditional systems use a fixed-speed compressor, which constantly cycles the unit on and off whenever the room dips below desired temperatures. In other words, the system is always running at either zero or 100 percent. This all-or-nothing approach can lead to unpleasant temperature swings as the system strains to maintain a constant temperature.
Inverters, on the other hand, are always running in the background, selectively changing the motor speed according to real time home temperature needs. This variable compression speed means a more accurate and comfortable approach to temperature delivery (that also keeps more money in your pockets). For example, if your room is already at a desired 71 degrees, the inverter will slow the compressor engine to a crawl. If the room is sweltering hot, the compressor will push into high gear to deliver efficient comfort.
Hyper-Heat (H2i®)
While most
standard heat pumps
completely stop working when it's about 25° F outside,
Mitsubishi Hyper-Heat
systems offer comfortable heating in sub-zero temperatures! Conventional heat pumps lose efficiency at about 40° F, while Hyper-Heat models use H2i® technology to provide up to 100 percent of heating capacity at 5° F, and perform until it gets as low as negative 13° F outside.
If you live in a climate where it doesn't get as cold as

negative 13° F, such the Delaware Valley, then you can rely on a Mitsubishi Hyper-Heat system as your year-round heating (and cooling) source. This can eliminate your dependence on fossil fuels and allow you to maintain comfort inside even when it's extremely cold.
Instant Hot-Start
With an advanced Mitsubishi system, you'll no longer have to dread that period of cool air before the heat fills your home in the winter. Instant Hot Start technology prevents drafts of cold air at start-up ensuring you feel warm air immediately.
3D i-See Sensor®
Comfort has never been easier to obtain with Mitsubishi's 3D I-See Sensor® technology. The sensor works by thermally scanning the interior space for hot and cold spots to deliver the precise desired temperature.
The sensor divides the space in 752 3D zones, continuously measuring the temperature of each to detect the exact position of heat signatures. By creating the 3D profile, the sensor can even differentiate between when the space is occupied versus empty. When the space is occupied, the sensor identifies the heat signatures and directs the indoor unit to send cool or warm air as needed. The system may also be customized to direct the unit to send cool or warm air toward or away from the heat signature. When the room is empty, the sensor will adjust the temperature levels or switch to energy saving mode.

Air Filtration
Not so fun fact: the air quality in your home is often worse than it is outside. With Mitsubishi air filtration systems, you can experience cleaner, healthier air in your home, reducing the risk of allergies and illness. The advanced filtration systems capture odors, allergens, bacteria, and other contaminants that circulate within a room and impact indoor air quality (IAQ).
Dual Barrier Coating
Over time, dust and dirt particles collect on the fan blades, heat exchanger, and other areas in your HVAC system. These surfaces are also prone to collecting hydrophobic particles such as oil and grease mist from cooking and smoke. As these particles build up, efficiency is reduced.
Mitsubishi's unique Dual Barrier Coating provides an extra layer of protection by coating fan blowers, heat exchangers, and vanes, helping to reduce the attachment of dust and oil mist that clog the inside of the units. This technology increases the operational efficiency of your system, saves you money, eliminates odors, and reduces the need for constant cleaning.
Zoned Control
With a Mitsubishi ductless system, you can divide your home into zones that best fit your family's needs. Each indoor air handler is connected to the outdoor heat pump using small line sets in the wall, and every indoor unit is controlled by its own thermostat, meaning each zone can have customized comfort. To learn more about how ductless works, click here.
With different zones, you can save energy and maximize savings year round. There's no need to heat/cool an entire house or floor if only one area is being used -- you can set back the thermostats or turn off the air handlers entirely in the rooms that aren't in use! If one family member wants their room cooler than another, it's no problem with a ductless system. Zoning gives you personalized control: how you want it, when you want it.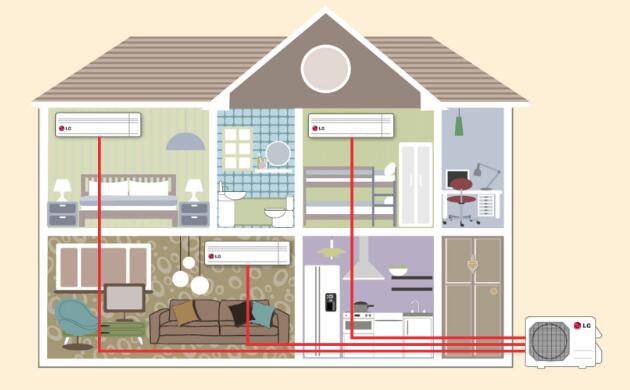 Kumo

Cloud

®
Finally, Mitsubishi Electric's mobile app allows homeowners to control their home's comfort no matter where they are. With kumo cloud® technology, you can connect your smart phone or tablet through a secure remote internet connection. The app is compatible with all current systems to give you complete wireless control -- anytime, anywhere.
This technology enables total personalized control of both single and multi-zone systems. Kumo cloud® allows you to set your desired temperature, fan speed, and air direction within each zone. You can even create customized cooling and heating schedules. This precise control improves the system's overall efficiency and provides you with more energy savings.
---
If you live in the Delaware Valley/Greater Philadelphia area and would like to find comfort within your home, visit our
website
or give us a call at 215 - 245 - 3200 to learn more.