Got a million problems with your current HVAC system? Ductless mini-splits could solve all of them.
If any or all of these issues sound painfully familiar, definitely keep reading:
You're sick of your window AC units

Your current system is inefficient

You're spending too much on energy costs

Your house lacks the room or ductwork needed for central AC

Your system only provides cooling

You have areas of the home with different cooling/heating needs

You need better indoor air quality (IAQ)
How Do Ductless Systems Work?
Ductless mini-split systems provide a multitude of benefits, from better energy efficiency to zoned control. They work by pumping cooled or heated refrigerant directly to the indoor unit (air handler) in a specific room/area. The air handler then quietly pushes the air where you need it, which is u

nlike traditional systems that treat all the air for your home at a central location and then distribute it to each room.
The air handler is connected by refrigerant and electrical lines to the outdoor unit (heat pump), which continuously cools or warms refrigerant and sends it back inside. The air handler uses

3D I-See Sensor

™ technology

to constantly monitor the temperature in the room so that the heat pump knows what temperature air to send in.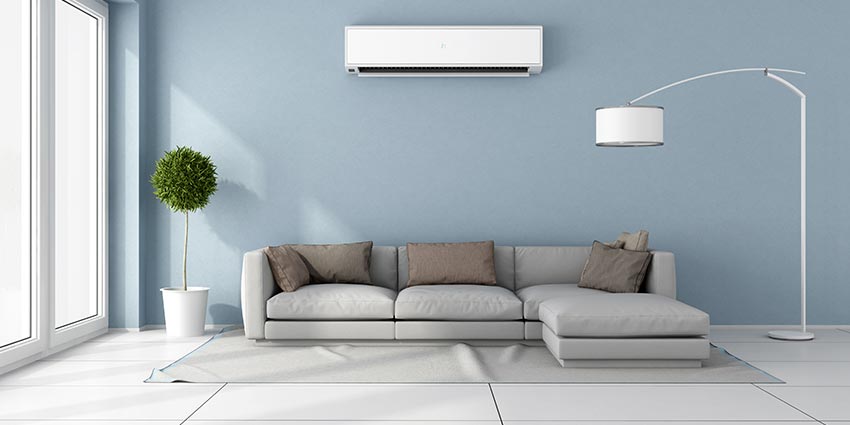 Ductless Does it All
So how exactly can the benefits of this type of system combat any issues you're currently facing?
You have noisy window AC units or an inefficient system
Fans are noisy and only do you good if you're standing right next to them, and window units are inefficient, a lot of work to set up, and not at all quiet. On the contrary, Mitsubishi ductless mini-split are "whisper-quiet", operating at a sound level equal to a human whisper. This also makes them great for offices or other places that need a quiet space.
Not only are they barely audible, Mitsubishi ductless systems are also extremely energy efficient. By using INVERTER-driven compressors, the systems automatically adjust to changing temperatures to deliver ideal comfort while only using the energy that is needed.
As a result, they are up to 40 percent more efficient than standard window units for cooling. The heating performance is also far superior than that of traditional heat pumps.
This smart technology allows you to reduce your energy consumption and save money on your energy costs, all while enjoying the quiet comfort of your home.
You want a system that both heats and cools
Maybe your current AC system isn't so bad, but if you're using a separate system for heating, ductless could be the easy solution to combining both into one.
While a standard air conditioning unit can only provide cool air, a heat pump can reverse its function! They work by absorbing thermal energy from the outside air, which then gets distributed throughout the home by the indoor air handler. The best part is, Mitsubishi Hyper-Heat heat pumps
can provide warmth in temperatures as low as negative thirteen degrees Fahrenheit.
The system also uses amazing Hot Start technology to prevent drafts of cold air at
start-up, ensuring you feel warm
air immediately.
You want to increase energy efficiency and reduce costs
Not only can the
Hyper-heat inverter technology warm your house up when it's below freezing outside, but it can also lessen or eliminate your dependence on fossil fuels. Whether you want to use the heat pump as the main source of your heat, or as a supplemental source to oil heat, you'll be going green and saving green.
You have an old or historic home that you want to preserve/don't want to change look of
To retrofit ductwork into an older or historic home or building would take up space and significantly change the look of the structure. Fortunately, no ducts equals a
minimally invasive installation process that keep the architectural integrity of the home in tact.
Moreover, the indoor air handlers can typically be painted to match the existing type of material that they will be mounted to, so you won't have to mess up the

aesthetics

of the home, either.
A system that can't be heard or seen...what more could you ask for?!
You live in a rowhome or home lacking room for traditional AC
Ductless systems are also wonderful for rowhomes or smaller homes that lack room for traditional AC systems and ductwork.
The indoor units are relatively small and can be wall-mounted, floor-mounted, or fit into the ceiling to match each room's specific needs.
With ductless mini-splits, there's no need to sacrifice your home's charm or give up space to experience comfort.
You want zoned control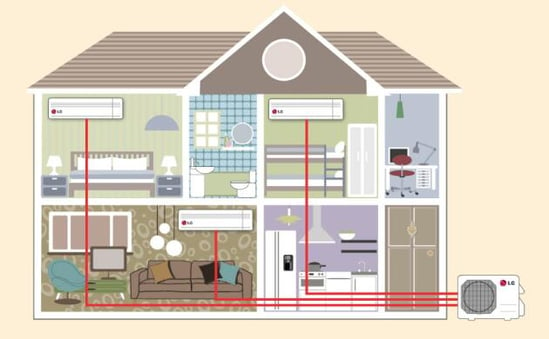 Whether you want the ability to cater to different family members' needs,
or if the air in your home/building just doesn't travel well through certain rooms, a Mitsubishi ductless system can supply the solution with zoned control.
A ductless system can provide cooling/heating in just one room, in part of the house, or in the whole house. Each indoor unit has its own thermostat, allowing for individualized temperatures -- however you want, whenever you want.
Because of this individualized control, ductless is also
perfect for additions, sunrooms, basements, and attics.
Sunrooms have an abundance of natural light and need to be cooled and heated differently from the rest of the house, while a
dditions or outbuildings are often a little short on extra room and lack the space required for ductwork.
Rooms in a home that are not occupied regularly may also require different levels of cooling/heating. With a traditional system, they would be cooled and heated the same as the rest of the house, resulting in a waste of energy and money. But w
ith a mini-split system, you can keep units in less-used rooms turned off when need be, keep the door closed, and save money.
You need better indoor air quality
Putting a Mitsubishi ductless system in your home/building also means enjoying an advanced allergen filtration system.
If you have issues such as getting sick easily or seeing a lot of dust, the poor IAQ in your home could be to blame.
Mitsubishi Electric Cooling & Heating systems use a sophisticated, multi-stage filtration system to help remove airborne particles and contaminants such as allergens, viruses, and bacteria from the air as they circulate within a room.
Better yet, maintenance of the filtration system can easily be completed in a matter of minutes.
With a Mitsubishi Ductless system, anything is possible! There's no need to lug around window units every year, bicker with your family members over what to set the thermostat at, or ruin your charming home with bulky ductwork.
---
ECI Comfort specializes in installing Mitsubishi-Trane ductless systems. If you live in the Delaware Valley/Greater Philadelphia area and would like to find comfort within your home, visit our
website
or give us a call at 215 - 245 - 3200 to learn more.