If you're thinking about replacing or supplementing your home's HVAC system, ECI Comfort might have the perfect solution for you. Mitsubishi Electric's ductless heating and cooling system is a unique, modern, cost-effective, and energy-efficient system that will have you wondering why you haven't had one in your home all along. But because this is a newer technology, many homeowners aren't familiar with how the system can provide so many benefits.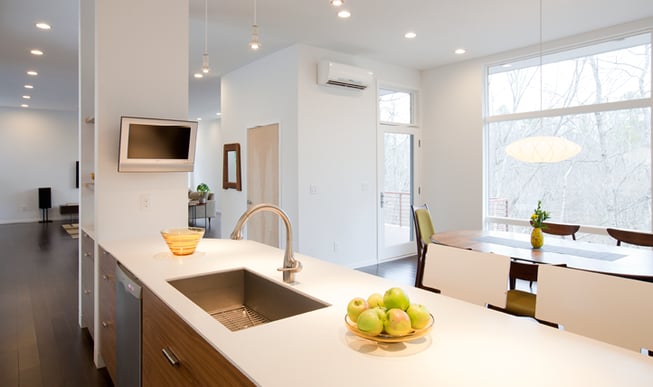 What is a Ductless HVAC System?
A ductless system can provide both cooling and heating in one without the use of air ducts. It works by taking heat from inside your home and expelling it outside. In the winter, it reverses its cycle to heating by taking thermal energy from outside and transferring it to the indoor unit(s) through line sets in the walls. The indoor units are typically referred to as air handlers or mini-splits. The outdoor unit is a heat pump that runs on electricity.
10 Ductless Facts You Should Know
A Mitsubishi HVAC system is ideal for any application. Whether you're in the market for a whole new system or just want to make your home as cozy as it can be, here are 10 facts that you should know.
1. Ductless is perfect for retrofit applications
Some homes don't have ample space for installing a new heating and cooling system. This is especially true in older or historic homes -- like many of those here in Bucks County -- with high ceilings, low crawl spaces, and lots of obstacles throughout the walls.
But with a ductless system, none of that matters!
Mitsubishi systems don't use ductwork, so you won't have to think about lowering a ceiling or finding extra space anywhere to accommodate bulky ductwork. The biggest concern will be deciding which area to mount the small, unobtrusive unit on. Once it's installed, you'll barely even notice it's there.
2. Ductless systems are small and minimally invasive
Speaking of barely noticeable, ductless systems take up much less room than conventional heating and cooling systems. Furnaces and boilers are typically large appliances that require more complex installations and more dedicated space. But the components of a Mitsubishi ductless system are much smaller, minimally invasive, and easier to install.
The outdoor component, or heat pump, is likely less than half the size of a traditional unit. Plus, instead of a series of large ducts, there's only a small hole required through the wall to connect it to the indoor units. The indoor air handlers are also small and can be mounted on the wall, floor, or ceiling. This means you don't have to take up too much space, and each room can have whichever type of air handler works best.

3.
You won't have hot or cold spots
Hot spots and cold spots happen in every home. You might have a window that turns one room into a sauna, or a corner where it's always so chilly that you need a space heater. With Mitsubishi 3D i-see Sensor™ technology, each unit actively monitors the zone it's in and makes adjustments to keep the temperature even.
This sensor is another way that the systems we install help improve your quality of life. Anyone can get up and adjust a thermostat, but Mitsubishi does it for you. Plus, you won't have to deal with making the rest of your home too cold or hot just to improve one spot.
4. Each zone has its own climate control
Maybe you don't want to heat your whole house, or maybe you want some rooms warmer or cooler than others. With a traditional forced-air system, the best you can hope for is closing vents and adjusting the main thermostat -- both pretty inconvenient solutions. A Mitsubishi system, on the other hand, gives you total control by creating climate zones.
Ductless systems have a unit mounted in each zone. By setting the temperature for a zone, you control your comfort. INVERTER-driven compressor technology lets you have warmer bathrooms, cooler bedrooms, and a moderate living area without adjusting the thermostat each time you want to increase or decrease the temperature. Comfort and convenience at their finest!
5. Ductless systems keep older homes comfortable
Older homes are notoriously drafty; some have minimal insulation and it seems that there's always a window or door where cold air makes its way in. You can chase down drafts using caulk and more insulation, but that's not always going to help. Talk about frustrating! A new ductless system will make your older home more comfortable without the worry of drafts coming through.

The Mitsubishi ductless system approaches home heating installation a little differently. It doesn't matter how old your home is, or even if it's on the historic registry. We can create a comfortable environment in every room without making structural modifications, and you'll enjoy a warmer (or cooler) home than you ever imagined.
6. Ductless systems have advanced filtration systems
Mitsubishi Electric Cooling & Heating systems use a sophisticated multi-stage filtration system to help remove airborne particles and contaminants such as allergens, viruses, and bacteria from the air as they circulate within a room. This filtration is an important step in improving indoor air quality and keeping you healthy. Ductless units also require simple maintenance when it comes to changing the filter.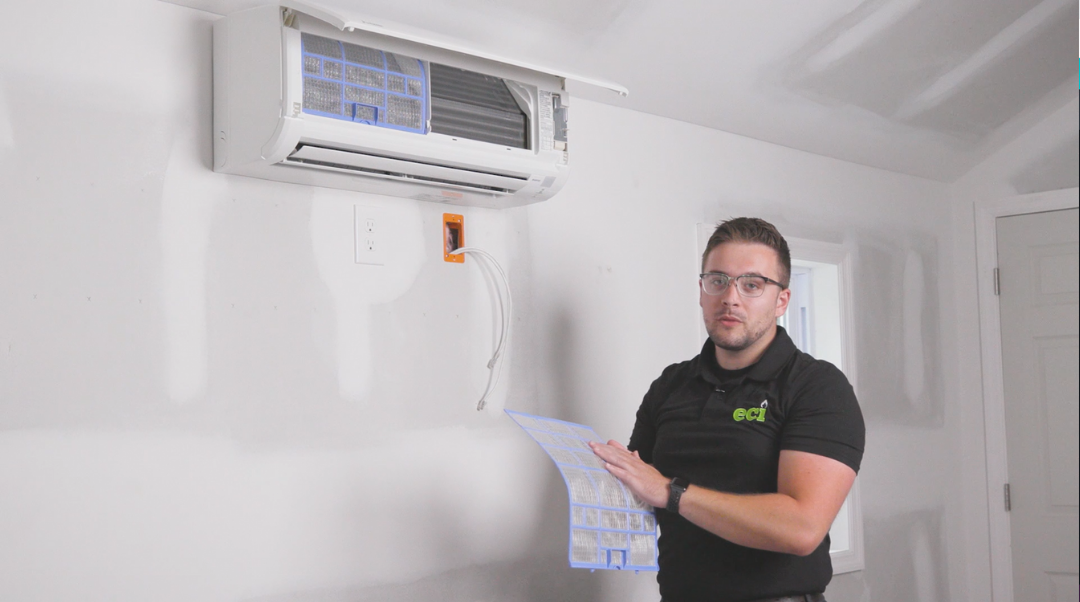 7. Air is warm from the moment it starts
Anyone with forced-air heat knows the cold blast that comes out through the vents when the unit kicks on. Luckily, ECI offers you a system that never sends out cold air when you don't want it. Mitsubishi Hot-Start™ technology tells the unit to heat up to the temperature that you want before the fan switches on so that you feel instant warmth when you switch to heating mode.
8. The Delaware Valley isn't too cold for a Mitsubishi system
A
traditional heat pump
can't keep up with the winters we get here in the Philadelphia area, as they typically stop working when it hits 25 degrees outside. But Mitsubishi ductless systems have transformed heat pump technology. Instead of reaching a point where it's just too cold for the system to work,
Hyper-Heat
H2i® technology keeps providing you with dependable heat when the temperatures drop 13 degrees below zero.
That's right, regardless of what Mother Nature is doing outside, your home will be comfortable just the way you like it.
9. A Ductless system can complement a furnace or boiler
Maybe you have a furnace or boiler that works perfectly fine, but you're building an addition or want supplemental heat to improve the comfort of your home. Your current heating system could also be great for the colder months, but too much for the shoulder seasons. Or, maybe you want to rely less on oil and gas and a little more on electric systems. Regardless, a Mitsubishi system is an ideal way to complement what you've got.
The same zone control that makes ductless whole-home heat keep you comfortable also lets you add more heat to areas where the furnace doesn't reach. Because it's ductless, it's also a much simpler way to install heat and cooling to a new addition.
10. You Might Qualify for a Tax Credit
Energy efficiency saves you money, but a tax credit makes choosing a Mitsubishi system even sweeter. The American Taxpayer Relief Act of 2012 and The Tax Increase Prevention Act of 2014 both give homeowners tax incentives for installing certain energy-efficient home heating and cooling systems.

INVERTER-driven compressor technology is part of what makes these units efficient. Not all of our units qualify, but many of them do. To learn more, click here or reach out to your tax professional.
Mitsubishi Electric takes home heating to the next level, and ECI Comfort can install these systems to make a comfortable home a reality. We can add a system to supplement what's already in your home, or create a brand new, whole-home system to solve all your comfort needs.
---
If you live in the Delaware Valley/Greater Philadelphia area and would like to find comfort within your home, visit our
website
or give us a call at 215 - 245 - 3200 to learn more.