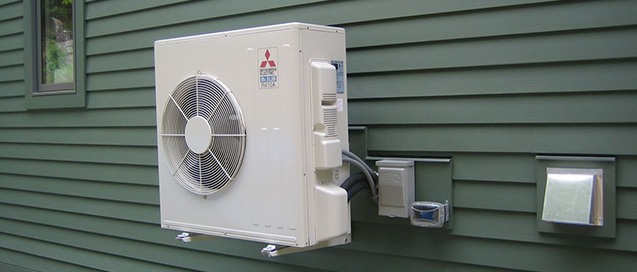 Ductless Split Systems
A ductless Heat Pump / Air conditioner is a system that circulates cool/hot air in a building without ductwork. These systems are an affordable alternative to central heating, ventilating, and air conditioning (HVAC ) systems, which need a network of ducts to move air. Ductless systems are generally considered to be more efficient and easier to maintain than window air conditioners.

In the past couple of months we have had an increasing number of people who are calling us about adding central air conditioning, strictly as a benefit for resale of their homes. The majority of these calls are older homes with hydronic heating with either baseboards or radiators and no existing duct work. In most cases these people are looking for high velocity or Mitsubishi ductless splits systems which our company has come to specialize in. These systems use no duct work at all or use compact air handlers and small 2 inch duct work which can be installed in existing homes with little or no modification to the existing structure.